Vegan Breakfast Pizza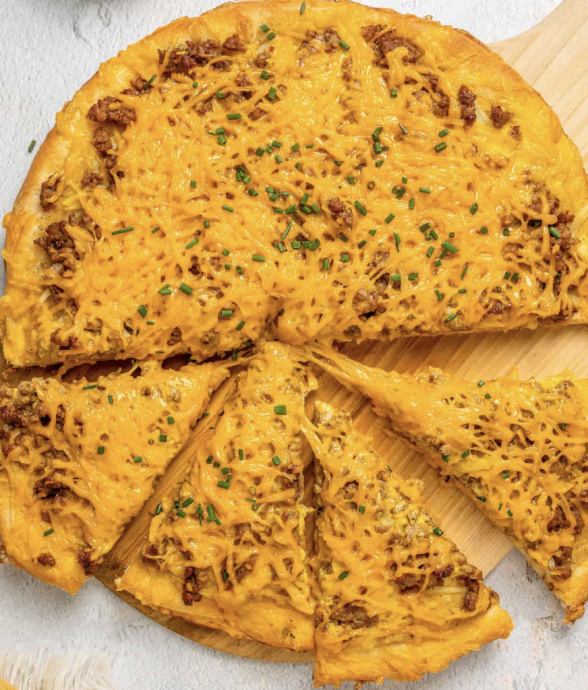 This vegan breakfast pizza features plant-based eggs, cheese, hash browns, and sausage, all baked on a crispy, chewy crust. It's a satisfying, savoury breakfast that will help you start your day off right!
Pizza for breakfast doesn't have to mean a cold slice of leftovers from last night's dinner! While leftover pizza for breakfast is a great post-pizza-night tradition, you can do better—like this vegan breakfast pizza!
Ingredients:
1 Pizza Dough, 16 ounces/454 grams store-bought or use homemade pizza dough
¼ cup Vegan Butter, 57 grams
¼ cup All-Purpose Flour, 31 grams
⅔ cup Plain Unsweetened Plant Milk, 165 grams
½ teaspoon Salt, 4 grams
½ teaspoon Cracked Black Pepper, 1 gram
2 cups Frozen Small Diced Potatoes or Frozen Shredded Hash Browns, 200 grams
7 – 8 ounces Vegan Breakfast Sausage, cooked and diced (210 – 228 grams) *see brand recommendations below
1 ⅓ cup Vegan Egg Batter, 12 ounces or 340 grams *see brand recommendations below
8 ounces Vegan Shredded Cheddar Cheese, 227 grams *see brand recommendations below
A handful of sliced green onion or fresh chives for garnish, optional