Perfect Potato Hash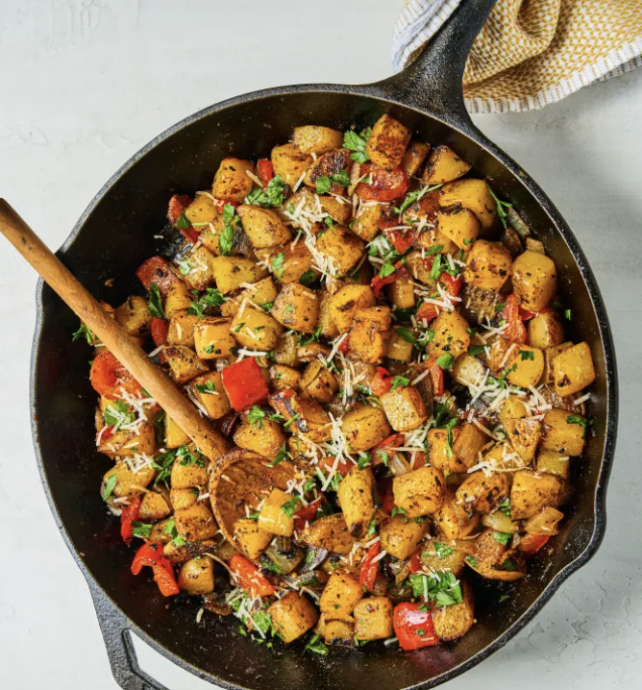 Hearty and Flavorful: The Ultimate Perfect Potato Hash Recipe
Imagine waking up to the tantalizing aroma of crispy potatoes sizzling in a skillet, mingling with the savory scent of caramelized onions and the rich aroma of smoky bacon. The sound of the sizzle, the sight of the golden edges, and the anticipation of that first bite create a symphony of flavors that are sure to brighten any morning.
This Perfect Potato Hash recipe is a testament to the beauty of simple ingredients coming together in harmony. It takes the humble potato, a kitchen staple, and transforms it into a hearty and satisfying breakfast or brunch dish that's bound to become a favorite.
When you're craving an American diner-style breakfast, look to this easy one-skillet hash brimming with crisp golden potatoes, onions, and peppers.
Ingredients:
1 1/2 pounds Yukon gold potatoes (about 3 large)
1 1/4 teaspoons kosher salt, divided, plus more as needed
1 small yellow onion (about 6 ounces)
1 small red bell pepper (about 6 ounces)
4 cloves garlic
1/2 small bunch fresh parsley
1 ounce Parmesan cheese, finely grated (about 1/4 cup), plus more for serving
2 tablespoons olive oil
2 tablespoons unsalted butter
1/4 teaspoon freshly ground black pepper, plus more as needed
1/2 teaspoon sweet paprika