Cranberry Cherry Pie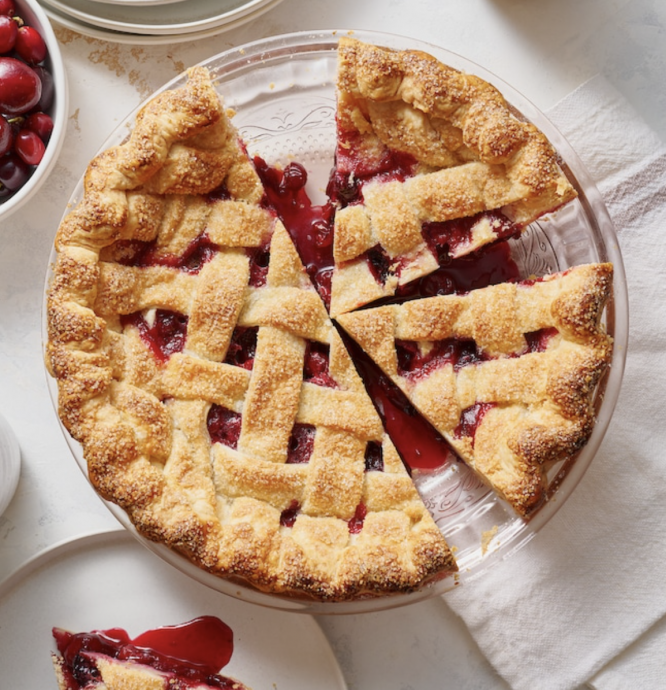 A golden brown double pie crust + a "sweet/tart" cherry cranberry filling make this cranberry cherry pie to-die-for delicious. Baked in a 9-inch pie plate, this classic dessert is perfect for your next holiday celebration.
The homemade crust is flaky, buttery, and pure pie crust perfection. And the cherry pie filling is sweet yet tart, thanks to the addition of cranberries! You can use fresh cranberries if they're in season, but froze cranberries work great, too. If you love cherry pie, but want a unique twist on the classic recipe, this pie is for you!
Ingredients:
For the Crust:
5 cups (600 g) all purpose flour
1/4 cup (57 g) sugar
1/2 teaspoon salt
2 cups (454 g) unsalted butter very cold
3/4 cup (170 ml) ice water more only if needed
For the Cranberry Cherry Pie Filling:
3 cups (392g) fresh or frozen cherries if using frozen, do NOT thaw
3 Tablespoons (42ml) Kirsch liqueur
2 Tablespoons (28g) light brown sugar packed
2 Tablespoons plus 2 and 1/2 teaspoons (24g) cornstarch divided
4 Tablespoons (44 g) cornstarch divided
2 cups (198g) fresh or frozen cranberries if using frozen, do not thaw
3/4 cup (149g) granulated sugar
1/4 teaspoon ground cinnamon
For the Egg Wash:
1 large egg
1 and 1/2 teaspoons water

1/4 cup (50g) sparkling sugar