Orange Creamsicle Puppy Chow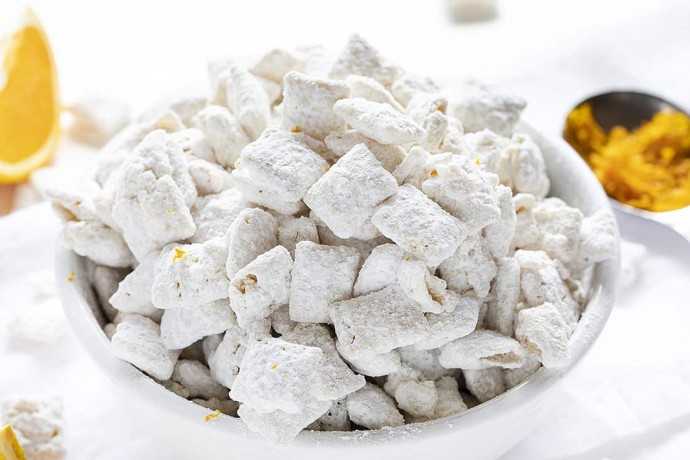 Orange Creamsicle Puppy Chow (aka Muddie Buddies) is a super fun citrus twist on a classic! Sweet vanilla and orange flavor mean you get your favorite ice cream treat in the hand-held form! So you might be wondering what the heck this crazy creation is? Let me break it down for you. Chex cereal coated in vanilla chocolate (although not technically chocolate) that has been flavored with orange extract and a wee lil' bit of orange zest. That concoction is then coated in confectioners sugar. But then the real test begins… can you stop with one handful? Nope! It seriously tastes like orange creamsicle! Five simple ingredients make up this treat!
You can easily double this recipe. Just make sure you have a large enough bowl to mix the ingredients in and that you can work in batches when coating the cereal with chocolate.You can store the puppy chow in an airtight container (or in the bag you made it in) on the counter or in the refrigerator for up to 2 weeks, but I doubt it will last that long! Sweet vanilla and orange in a fun no-bake snack!
Ingredients:
8 ounces vanilla chocolate, Candiquick
1 teaspoon orange extract
1 teaspoon orange zest
1-2 drops orange food color (optional, I did not use)
4 cups Rice Chex cereal
1 cup confectioners sugar