Egg Fried Rice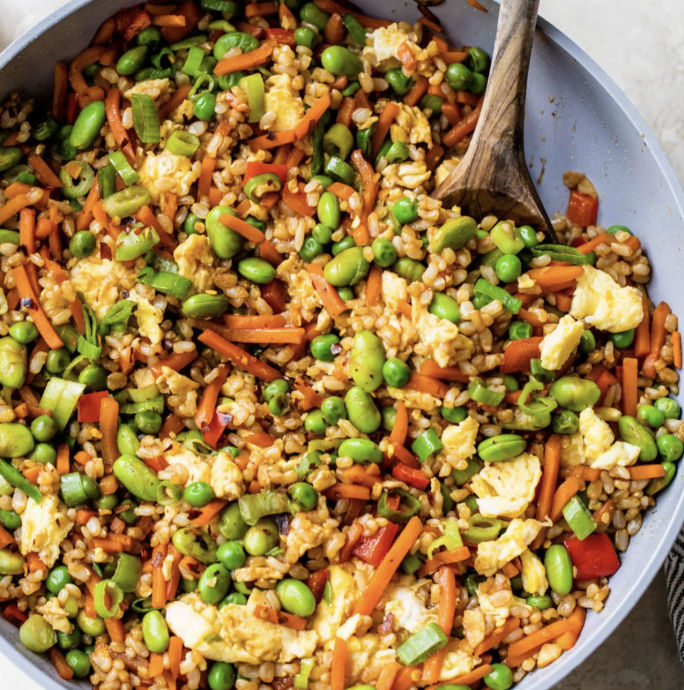 Egg Fried Rice, a beloved staple of Asian cuisine, is a simple yet deeply satisfying dish that perfectly embodies comfort food. With its tantalizing aroma and a symphony of flavors, this dish has earned its place as a go-to choice for both busy weeknight dinners and special occasions.
The beauty of Egg Fried Rice lies in its versatility. Starting with fluffy cooked rice, the dish is transformed by the addition of scrambled eggs, crisp vegetables, and savory sauces. The eggs are gently scrambled to create delicate ribbons of protein that meld seamlessly with the rice. The vegetables, often including carrots, peas, and scallions, provide bursts of color and crunch, while also contributing to the dish's overall nutritional value.
The magic happens in the wok or skillet, where all the ingredients dance together, absorbing the umami-rich soy sauce and earthy sesame oil. As the rice lightly fries, it takes on a slight char and a medley of flavors that's simply irresistible.
Egg Fried Rice is not just a meal; it's an artful blend of textures, flavors, and cultures. From the sizzle of the wok to the final dash of green scallions, each step is a journey that ends in a delightful and satisfying plate of goodness. Whether enjoyed as a standalone dish or paired with your favorite Asian entrees, Egg Fried Rice is a timeless classic that brings joy to every bite.
Ingredients:
1/4 cup oyster sauce
1 tablespoon soy sauce (I use low-sodium) plus additional to taste
2 tablespoons unsalted butter divided, or butter with canola oil spread
3 large eggs lightly beaten
1 tablespoon canola oil
1 large red, yellow, or orange bell pepper cut into 1/4-inch dice (about 1 1/4 cups)
1 bag frozen peas and carrots thawed (12 ounces)
1 cup frozen shelled edamame thawed (optional, but great for extra protein)
2 cloves garlic minced
2 1/2 cups COLD cooked brown rice break up large clumps with your fingers
1/2 cup chopped green onions about 3 medium
Red pepper flakes Sriracha, or hot sauce of choice (optional)