Mushroom Pasta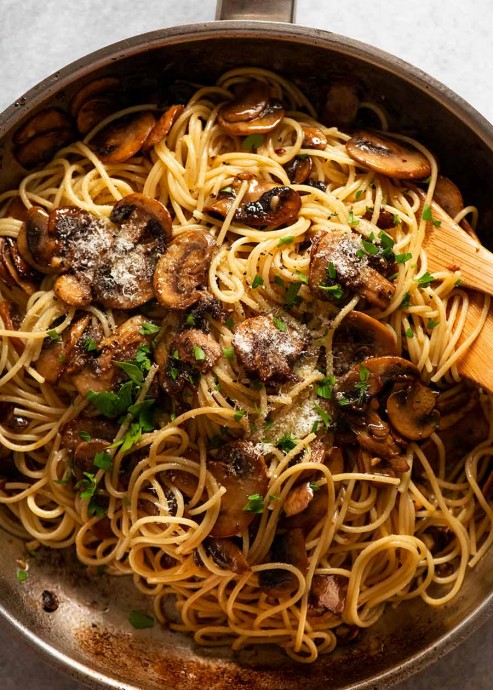 This is a mushroom pasta that's nice and juicy, in no way dry and dull even though it's not made with a tomato or cream sauce like this Creamy Mushroom Pasta. It's buttery and garlicky, and it's 6 ingredient magic at its best.
Anyone who has sautéed mushrooms will know that the minute mushrooms hit the skillet, the bottom layer of mushrooms soaks up the oil, leaving the top layer dry. So I used to think that the best way to sauté mushrooms was with loads and loads of butter or olive oil. As you sauté the mushrooms, they start to leech water, creating moisture. But still! That first layer of mushrooms lucky enough to hit the skillet first stole all the butter, leaving the remaining 80% of mushrooms butter free! In a bid to even out the butteriness of mushrooms, my solution is to reduce the amount of butter melted in the skillet, add a bit of olive oil (so you can heat the butter more without it burning and get the mushrooms browned faster). Then AFTER the mushrooms are golden (i.e. water leeched so they are no longer butter-sponges), add a small knob of butter.
A big skillet of mushrooms that look and taste way more buttery than if all the butter is melted at the beginning! I know I keep going on and on about how juicy and slick this pasta is! It's because this is hard to capture in photos and I feel like people see pastas like this one without a large pot of sauce and assume it's dry and boring. When in actual fact, this is about as far from that as it can be!
Ingredients:
CHOOSE PASTA
200g / 7 oz short pasta like orecchiette, penne, macaroni
160g/6 oz long pasta - spaghetti, fettucine
GARLIC BUTTER MUSHROOMS FOR PASTA
400g / 14 oz mushrooms , sliced 1/2 cm / 1/5" thick (Note 2)
50g / 3 tbsp unsalted butter , separated
1 tbsp olive oil
2 garlic cloves , finely minced
1/2 tsp each salt and pepper
1/2 cup freshly grated parmesan cheese (or 1/4 cup store bought grated)
TO SERVE
Parsley , finely chopped
Parmesan cheese , grated