Mexican Chicken Egg Rolls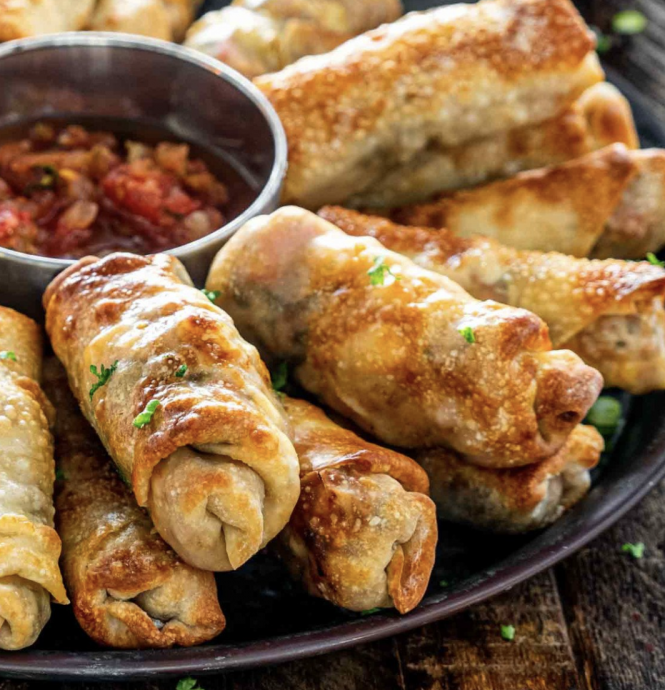 Sink your teeth into these crispy Mexican Chicken Egg Rolls, loaded with juicy chicken, vibrant veggies, and a kick of spices. It's a fiesta of flavors with every bite, making it impossible to stop at just one!
As these egg rolls bake, the wrappers transform into a delightfully crispy, golden envelope encasing a fiesta of flavors. The melted butter brushed on top gives them that extra 'oomph' of richness and helps achieve that gorgeous color. It's like having your own personal handheld fiesta, right in your kitchen! And the smell? Oh, the smell will have your mouth watering in anticipation. So grab your apron, preheat your oven or air fryer, and let's get rolling! These Mexican Chicken Egg Rolls are waiting to be the star of your next meal!
Ingredients:
1 tablespoon olive oil
1 pound chicken breasts (boneless and skinless, cut into small pieces)
1 teaspoon ground cumin
1 teaspoon chili powder
¼ teaspoon cayenne pepper
1 medium red bell pepper (chopped in small pieces)
1 cup frozen corn
2 cups kale (roughly chopped)
1 cup salsa
6 green onions (chopped)
¼ cup parsley (chopped)
salt and pepper ( to taste)
24 egg roll wrappers
¼ cup butter (melted)