Oven Pulled Pork Barbecue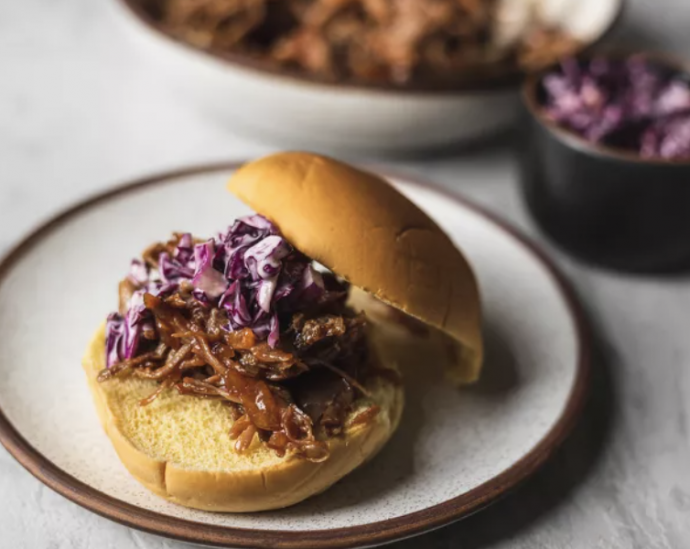 Pulled pork is great for tailgating, a game day party, or a family weekend meal or potluck. In this easy recipe, pork shoulder roast starts in a hot oven, and then the temperature is decreased, and it's slow-roasted until fall-apart tender. Once cooked, the roast is shredded and mixed with a homemade barbecue sauce (use your favorite purchased barbecue sauce if you prefer).
Serve the barbecue pulled pork on soft buns with coleslaw and baked beans on the side, or enjoy it as a tasty main meat dish. Be sure to serve extra barbecue sauce for topping. There's no end to what kind of dishes you can make using fresh or leftover pulled pork, from stews to egg rolls to empanadas.
Ingredients:
For the Pulled Pork:
1 teaspoon salt
1/2 teaspoon freshly ground black pepper
1 tablespoon chili powder
1 teaspoon garlic powder
1/2 teaspoon onion powder
1/2 teaspoon ground mustard
1 (4- to 5-pound) Boston butt roast, or pork shoulder, boneless or bone-in
1 cup apple juice
4 cloves garlic, coarsely chopped
1/2 teaspoon garlic powder
For the Sauce:
1 1/2 cups ketchup
2/3 cup apple cider vinegar
2 tablespoons Worcestershire sauce
1/4 cup finely chopped onion
2 tablespoons brown sugar, packed
1/2 teaspoon ground mustard
1/2 teaspoon garlic powder