One Pan Steak And Veggies With Garlic Herb Butter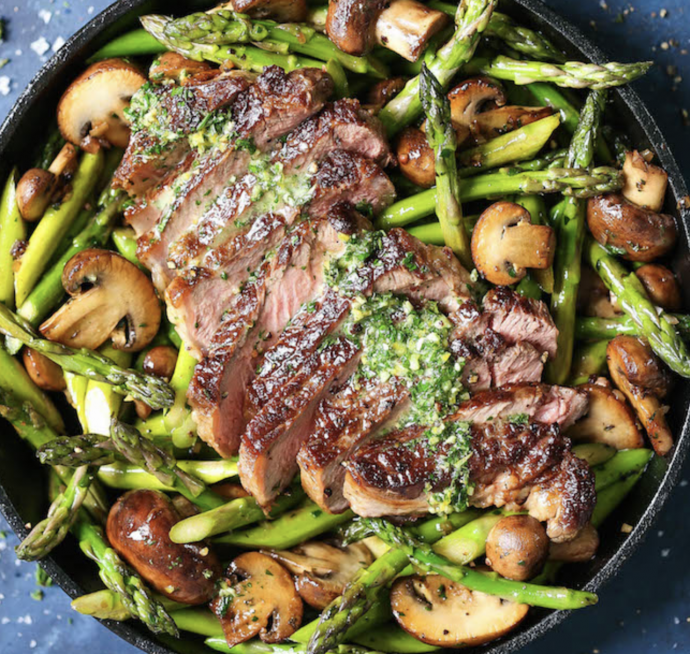 Perfectly seasoned and cooked steak with asparagus and mushrooms, served with a heavenly garlic herb butter! One pan. Minimal clean-up. 30 minutes. That's it!
The beauty of the One Pan Steak and Veggies with Garlic Herb Butter lies not only in its taste but also in its convenience. With everything cooked on a single pan, the clean-up is a breeze, allowing you to enjoy your culinary triumph without the hassle of a pile of dishes.
Whether you're a seasoned home cook looking for a quick and impressive dinner or a novice eager to create a culinary masterpiece, this recipe fits the bill perfectly. It's a testament to the fact that sometimes, the most delicious meals can be created with just a few simple ingredients and a touch of creativity. So, gather your steak, vegetables, and herbs, and embark on a culinary journey that will tantalize your taste buds and leave you craving for more of this delightful one-pan wonder.
Ingredients:
5 tablespoons unsalted butter, divided
1 clove garlic, minced
1 tablespoon chopped fresh parsley leaves
1 ½ teaspoons minced fresh thyme leaves
1 ½ teaspoons fresh lemon zest
Kosher salt and freshly ground black pepper
2 1 1/4-inch-thick New York strip steaks
1 shallot, minced
1 pound fresh asparagus, trimmed and cut into 2-inch pieces
8 ounces cremini mushrooms, halved