Bacon Meatloaf Recipe (Bacon Infused Meatloaf)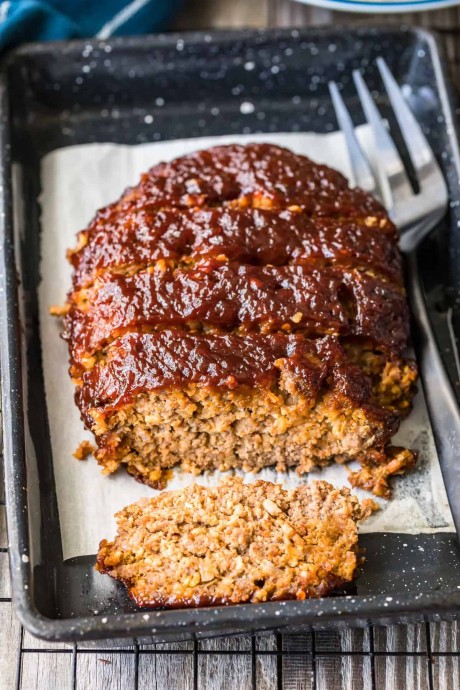 When it comes to comfort food, this bacon meatloaf recipe is a winner! Rich and full of flavor, this dish is a real crowd pleaser. Coated in a delicious BBQ topping, this recipe is a must try! Meatloaf is such a classic dish, it's heart and comforting and the whole family loves it. My recipe is loaded with flavor thanks to…bacon! It's delicious, it's perfect, you have to try it!
I always serve my meatloaf with a healthy side of creamy mashed potatoes and a steamed veggie side. Keep it simple and let the meatloaf speak for itself! This bacon meatloaf is perfect with: Best Mashed Potatoes, Cheesy Crispy Baked Green Beans, Easy Cheesy Scalloped Potatoes Recipe, Cheesy Broccoli and Cauliflower Gratin Recipe. So many recipes for meatloaf include breadcrumbs as this helps to keep everything together. I wanted to make mine gluten-free so I used quick oats in the place of these. They work amazingly well and it's perfect if you or any guests have a gluten intolerance.
The topping on this bacon meatloaf recipe is so rich and delicious and it's so easy to make! It's made of: ketchup, barbecue sauce, dark brown sugar, crushed red pepper, cider vinegar.
The result is a beautifully tangy and sweet sauce and it works so well with the whole dish.
Ingredients:
For the Topping
½ cup ketchup
½ cup barbecue sauce Blue's Hog Original, if possible
1/3 cup dark brown sugar
¼-½ teaspoon crushed red pepper
1 tablespoon cider vinegar
For the Meatloaf
2½ pounds ground chuck
12 ounces thick-cut bacon
1 medium yellow onion diced
2 garlic cloves minced
1/3 cup whole milk
½ cup ketchup
2 teaspoons Worcestershire Sauce
1 teaspoon Dijon mustard
¾ cup quick oats
2 large eggs lightly beaten
½ teaspoon ground black pepper