Blackout Chocolate Cake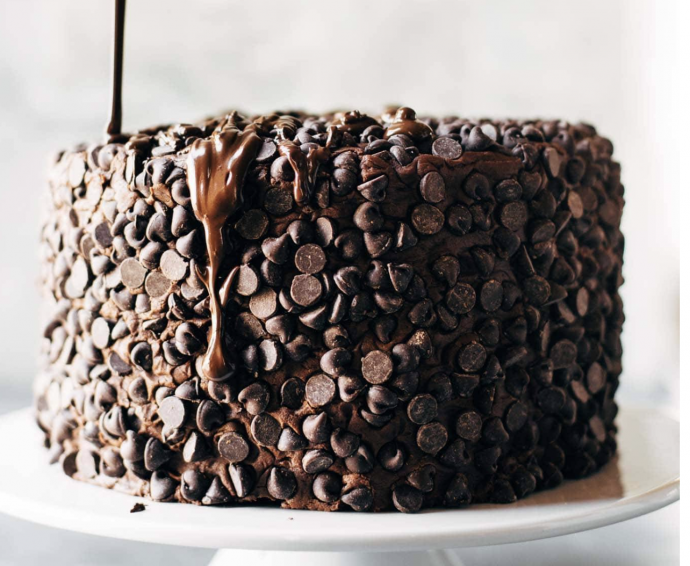 The crowning glory of this cake is its frosting – a smooth and creamy chocolate concoction that envelops the cake like a luxurious embrace. Each bite is a harmonious dance of sweetness and cocoa bitterness, creating a perfect balance that chocolate enthusiasts will adore.
Whether you're celebrating a special occasion or simply craving a moment of pure indulgence, the Blackout Chocolate Cake is your answer. It's more than just a dessert; it's an experience that ignites the senses and brings a touch of opulence to any gathering.
This is the cake for chocolate lovers! Ultramoist chocolate cake, layers of cream cheese chocolate frosting, and an awesome chocolate chip + chocolate drizzle exterior.
Ingredients:
For the chocolate cake:
3 cups flour
3 cups sugar
1 1/2 cup unsweetened cocoa powder
1 tablespoon instant espresso powder (we use DeLallo)
1 tablespoon baking soda
1 1/2 teaspoons baking powder
1 1/2 teaspoons sea salt
4 large eggs
1 1/2 cups plain Greek yogurt (we use Chobani whole milk yogurt)
2 cups water
1/2 cup vegetable oil
1 tablespoon vanilla extract
For the frosting:
1 1/2 cups butter, softened
8 ounces cream cheese, softened
1 1/2 cups unsweetened cocoa powder
1 tablespoon vanilla extract
a pinch of salt
7 cups powdered sugar
1/4 cup heavy cream
3–4 cups of chocolate chips