Roasted Vegetable Quinoa Bowls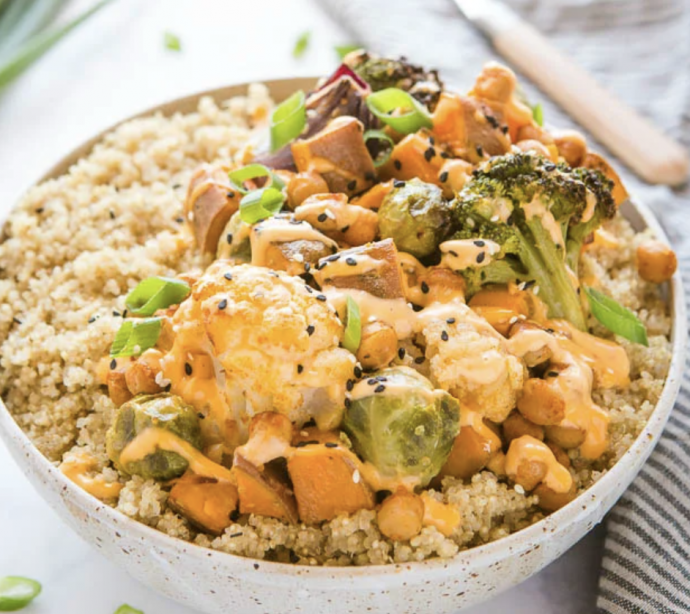 These Roasted Vegetable Quinoa Bowls are the perfect healthy lunch or dinner recipe that's great for meal prep! Make it vegetarian or vegan!
A healthy, well-balanced lunch can be hard to make, especially if you're on the go or you work outside the home and need something that's simple and ready to reheat. I love making a big batch of these Roasted Veggie Quinoa Bowls at the beginning of the week and portioning them out into meal prep containers for a quick grab-and-go lunch that's ultra filling and packed with healthy ingredients like broccoli, sweet potatoes, chickpeas, quinoa, and Brussels sprouts.
Ingredients:
1 cup dry quinoa
2 cups vegetable stock
2 tablespoons olive oil
2 medium sweet potatoes (skin on, chopped into 1-inch cubes)
3 cups Brussels sprouts ends removed
1 large red onion (cut into chunks)
2 cups cauliflower florets
2 cups broccoli florets
29 ounce canned chickpeas (one large can or two small cans, rinsed and drained)
1 teaspoon smoked paprika
1 teaspoon garlic powder
salt and pepper
FOR SERVING:
1/2 cup light mayonnaise (or use vegan mayo)
2 tablespoons Sriracha (or your favourite hot sauce)
1/2 teaspoon Worcestershire sauce
chopped green onions
sesame seeds (optional)