Fig Tart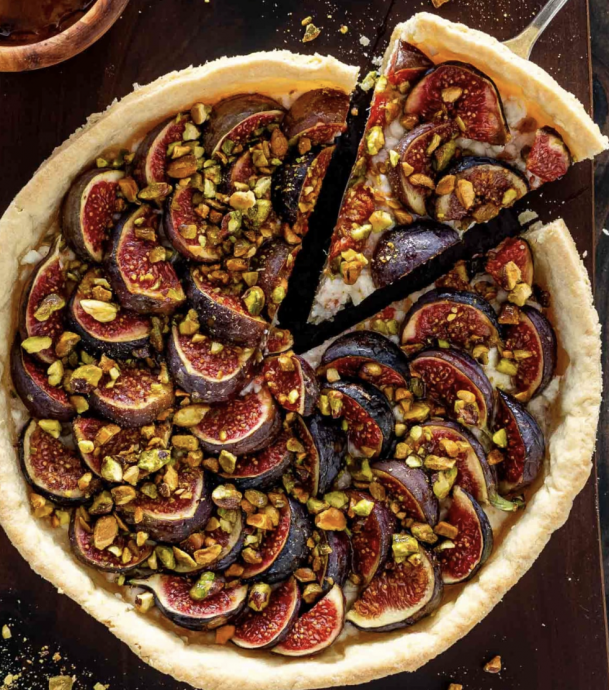 Surprise your friends and family with this scrumptious Fig Tart with creamy goat cheese and crunchy pistachios! Featuring a medley of fresh, sweet, and savory flavors all nestled into a crisp buttery crust, this rustic dessert is an unbelievably delicious creation perfect for any occasion!
There's something truly magical about the honey-like sweetness of fresh figs! It's a unique taste with a subtle hint of refined floral flavor that just melts in your mouth. So today we bring together the sweetness of fresh figs, the creamy allure of goat cheese, and the delightful crunch of pistachios to create this delicious fig tart with pistachios and goat cheese recipe. It is the perfect balance of sweet and savory flavors all cuddled into a homemade buttery crust!
But it doesn't stop there! What makes this tart even more enticing is how remarkably easy it is to make. With just a handful of ingredients and a little bit of time, you can create a stunning dessert that looks and tastes like it came straight from a gourmet bakery. This simple fig tart recipe will have your friends calling you a pastry pro in no time!
Ingredients:
For the Pastry
1¾ cup all-purpose flour
½ cup butter (cold)
cold water
For the Filling
10 to 12 fresh figs (cut into quarters)
½-1 cup pistachios (roughly chopped)
1½ cups goat cheese (crumbled )
olive oil
3 tablespoons honey