Cashew Crunch Salad with Sesame Dressing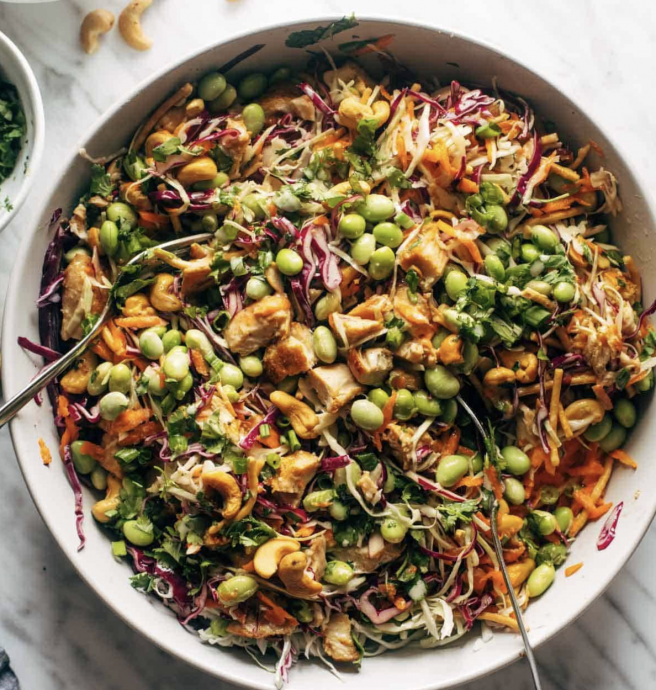 This Cashew Crunch Salad is loaded up with crunchy veg, chow mein noodles, edamame, and roasted cashews and it'll make you ACTUALLY WANT TO EAT A SALAD. And the sesame dressing – OMG!
What's it called when you want something that tastes really, really good… but is also basically a high pile of fresh, vibrant, feel-good-in-your-body vegetables? You call it Cashew Crunch Salad, that's what you call it.
The dressing might be my favorite part of this mix-up.
It's an oil-and-vinegar dressing that you can shake up in a jar, sweetened up with a little sugar, seasoned with a little sesame oil, and… if you are me… creamified with a dollop of Greek yogurt or mayo. I don't know, for me, a vinaigrette-drenched salad just isn't going to keep me full.
Ingredients:
For the Salad:
1/2 head of green cabbage, finely shredded
1/2 head of purple cabbage, finely shredded
2 cups carrots, matchstick-cut or shredded
1 cup fresh cilantro, chopped
1/2 cup sliced green onion
2 cups cooked edamame (see FAQs)
1–2 cup roasted cashews (see notes)
2 cups crunchy chow mein noodles (optional)
chicken, shrimp, or any other protein you like
Dressing:
1/4 cup olive oil (you can use any other oil as well)
3 tablespoons white vinegar
2 tablespoons sesame oil – very important for flavor!
2 tablespoons sugar
1 teaspoon salt
a few shakes of garlic powder
optional: 1/4 cup Greek yogurt or mayo (more or less to taste – this changes it from a vinaigrette to more of a creamy dressing)