Instant Pot Coq au Vin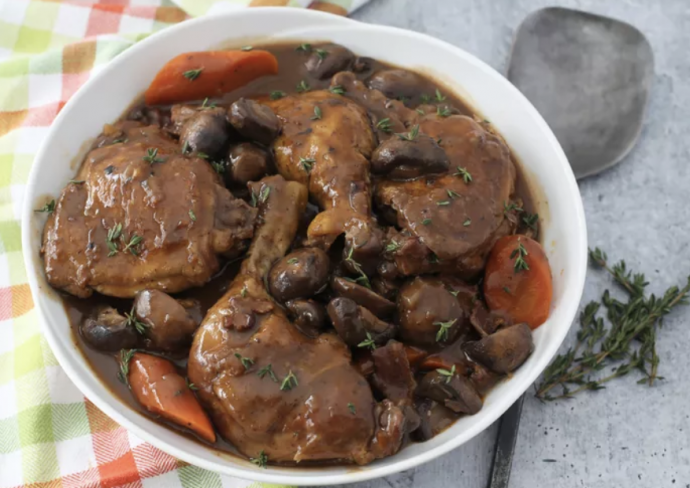 Coq au vin is a classic French dish of braised chicken with bacon, mushrooms, and wine—usually red Burgundy, but sometimes white. The dish is an excellent choice for a dinner party or Sunday dinner.
This version, made with flavorful bone-in chicken legs and thighs, includes red Burgundy wine, garlic, chopped onions, and cremini mushrooms. Feel free to add a dozen or so peeled pearl onions to the stew along with the mushrooms if you like.
Serve the chicken, vegetables, and rich sauce with mashed potatoes for a sensational meal.
Ingredients
1 tablespoon olive oil
4 strips bacon, thick cut
1 onion, chopped
3 pounds chicken thighs or legs, bone-in with skin
1/2 teaspoon kosher salt, or to taste
Freshly ground black pepper, to taste
3 cloves garlic, minced
2 large carrots, cut diagonally into 2-inch pieces
8 ounces mushrooms, halved, or left whole if small
1 cup red wine, such as pinot noir or cabernet sauvignon
3/4 cup chicken stock, unsalted or low-sodium
1 tablespoon tomato paste
1 large bay leaf, or 2 small
2 sprigs thyme, plus more for optional garnish
2 tablespoons all-purpose flour
3 tablespoons butter, softened
Chopped parsley, for garnish