Sweet and Sour Pineapple Broccoli Chicken Stir Fry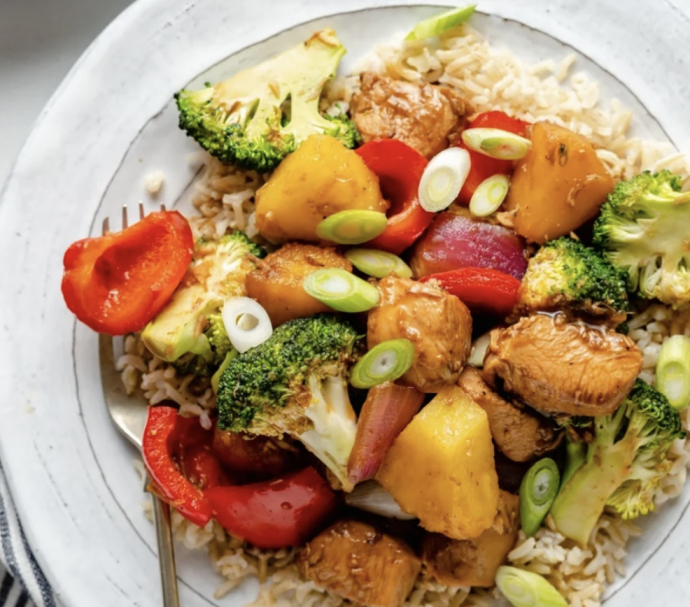 Wonderful pineapple broccoli chicken stir fry with a flavorful sweet and sour sauce. This easy pineapple chicken stir fry recipe takes just 30 minutes to make for the best, veggie & protein-packed weeknight dinner! Serve with rice or quinoa for an amazing meal.
This pineapple broccoli chicken stir fry comes together super quickly and is packed with a rainbow of veggies. Pineapple adds a burst of sweetness in every bite paired with savory chicken and crisp vegetables like broccoli and bell pepper.
Plus, you're going to go crazy for the flavorful sauce that reminds me of the sweet and sour chicken we used to get for takeout growing up. It's slightly tangy with hints of sweetness from honey and a little brown sugar. You're going to LOVE it.
Ingredients:
For the sauce:
⅓ cup low sodium soy sauce
3 tablespoons water
2 tablespoons rice wine vinegar
2 tablespoons honey
1 tablespoon brown sugar (or sub coconut sugar)
3 cloves garlic, minced
2 teaspoons freshly grated ginger
½ tablespoon arrowroot starch (or cornstarch)
For the stir fry:
1 tablespoon toasted or regular sesame oil, divided
1 pound boneless skinless chicken breast, diced into ½ inch chunks
1 large red bell pepper, chopped into large chunks
1 small red onion, chopped into large chunks
1 head broccoli, cut into florets (about 4 cups broccoli florets
1 cup fresh or frozen pineapple chunks
For serving:
Cooked brown or coconut rice, for serving
Chopped fresh scallions, for topping