Roasted Peanut Kale Crunch Salad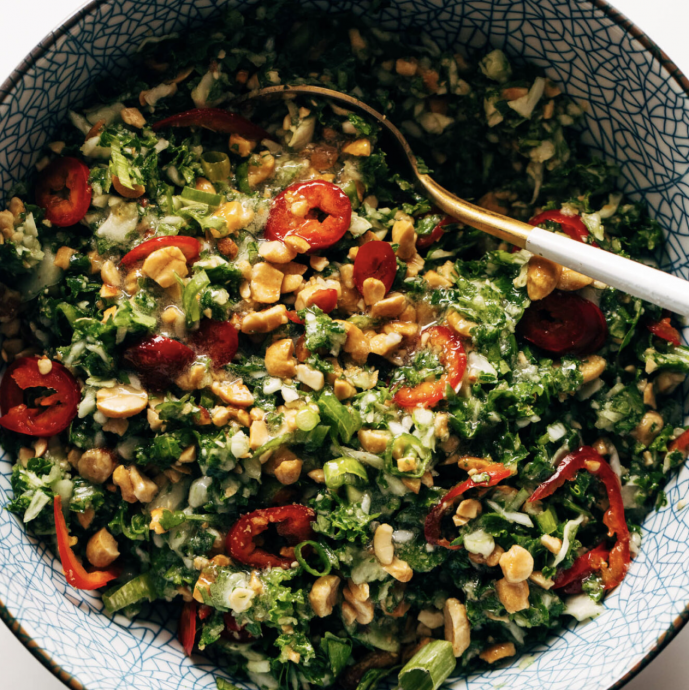 Crunchy kale and cabbage, fresh herbs and fresno peppers, chopped peanuts, and a perfect roasted peanut vinaigrette that tucks into all the salad nooks and crannies.
This Roasted Peanut Kale Crunch Salad is SO yummy! I am very picky about kale in a salad, and this one is so pleasant to eat because of the finely chopped texture on the kale! Plus it's juiced up and slicked down in the best way possible with a light roasted peanut vinaigrette that is slightly sweet and just really delightful.
Ingredients:
Kale Crunch Salad:
4 large stalks kale, stems removed
half a head of green cabbage
2 small fresno peppers, sliced
1 cup peanuts, chopped
1/2 cup chopped cilantro
1/2 cup chopped green onions
Roasted Peanut Vinaigrette:
1/2 cup roasted peanut oil
2 tablespoons rice vinegar
1 clove garlic
2 1/2 tablespoons sugar
1 teaspoon coarse kosher salt (more to taste)
freshly ground black pepper