Fresh Apricot Crisp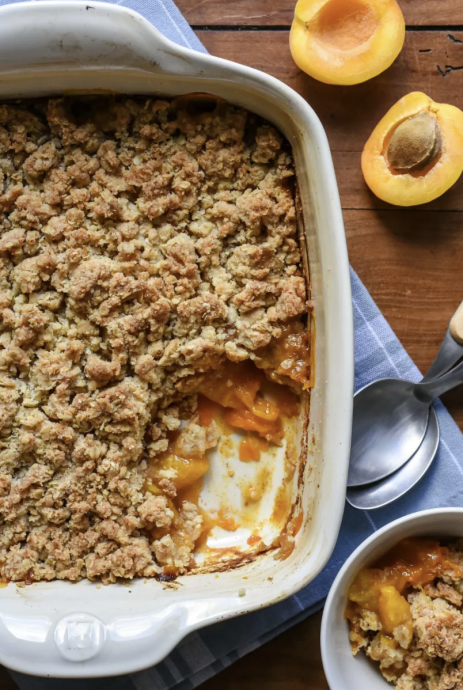 Here's to rustic summer baking at its best! This fresh apricot crisp features sweet apricots baked under a buttery oat crisp topping, until hot and bubbly. This is a perfect laid back summer dessert to serve simply as is, with a scoop of vanilla ice cream – or a dollop of crème fraiche on top, in true French fashion.
Nothing beats a rustic, laid back summer dessert made with the best seasonal fruits! And for this, I think a fruit crisp always fits the bill. It's one of my favorite desserts to make during Summer as it's quick and easy, which means less time in the kitchen and more time outside.
I have always loved the effortlessness of making a fruit crisp and how it doesn't need to look perfect. I'd even say the more rustic it looks, the better!
This Fresh Apricot Crisp is also the perfect way to showcase the ripe, sweet stone fruits. Since a crisp is less elaborate than a tart or a pie, it allows the fruits to shine on their own.
Ingredients:
For the filling:
2 lbs (900g) apricots, halved and pitted
½ tsp cinnamon powder
2 tbsp (40g) honey
1 tbsp (10g) cornstarch
For the crisp topping:
¾ cup (95g) all-purpose flour
¼ cup (50g) white sugar
¼ tsp salt
½ tsp cinnamon powder
¾ cup (75g) oats (rolled or quick)
¼ cup (25g) grated coconut
6 tbsp (85g) unsalted butter, cold and cubed