Farro Salad with Apples and Arugula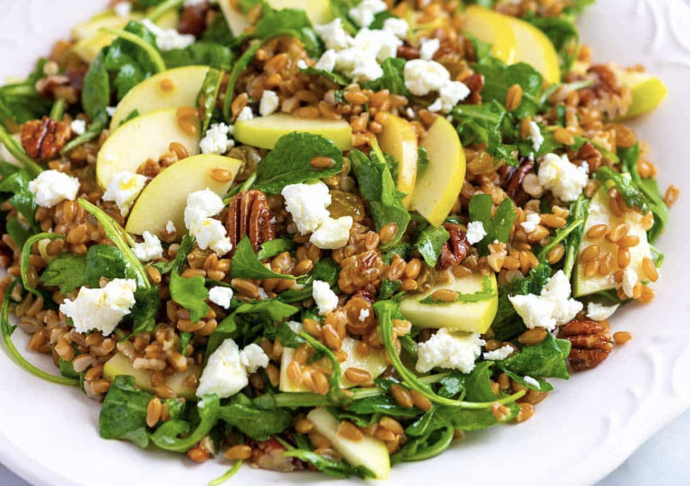 We've fallen in love with this delicious farro salad made with cooked farro, sweet apples, greens, and a bright salad dressing. Farro is a nutty whole grain that's absolutely perfect in salads like this one.
Farro tastes nutty and has a slightly chewy texture when cooked. It's a similar size to rice, but has much more flavor. It is simple to prepare and can be added to a variety of dishes including soups, sides, and salads like this recipe.
Ingredients:
FOR THE FARRO
1 cup uncooked whole farro, see notes
3 cups water or stock, try our veggie stock or chicken stock
1 bay leaf
FOR THE SALAD
2 tablespoons fresh lemon juice
1 teaspoon Dijon mustard
1 teaspoon honey or maple syrup
1/4 cup extra virgin olive oil
1 medium apple, cored and sliced into 1-inch pieces
3 cups arugula or salad greens
Handful fresh herbs, torn into small pieces, see notes for suggestions
1/2 cup pecan halves, toasted and chopped
1/2 cup golden raisins or other dried fruit
1 1/2 ounces crumbled goat cheese, optional
Salt and fresh ground black pepper