Prawn Tacos (Shrimp)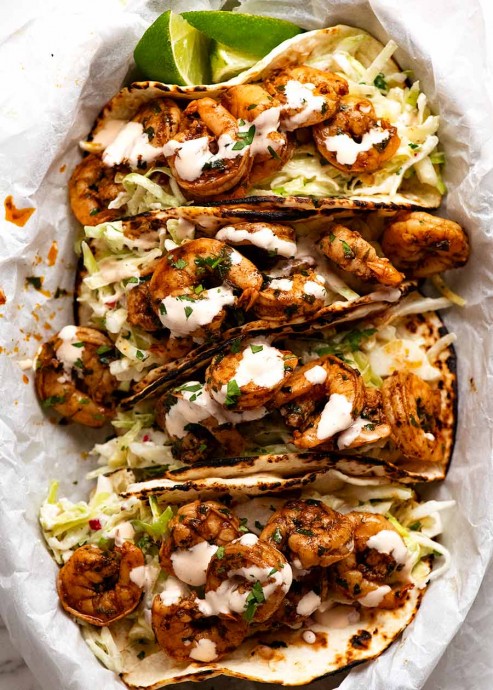 This is how I do Prawn Tacos (Shrimp) – marinated in a zingy chipotle lime marinade, seared, then stuffed into soft tortillas with a zesty creamy Taco Slaw, drizzled with my go-to Pink Taco Sauce. Time to up your taco game! Super seedy with a mere 20 minute marinade – even 5 minutes is enough because prawns are actually very delicate and they can't stand up to long marinading times. In fact, if you leave it in the marinade, the citrus will end up breaking down the flesh too much – essentially a ceviche gone wrong! We're using medium / smallish prawns here, suitable size for tacos. Which means they cook super fast. 60 seconds on each side, max – no more, otherwise they will overcook!
You can feel free to stuff these tacos with anything (else) you choose. But today, I'm offering up: Taco Slaw – a terrific tangy-yet-creamy yogurt based slaw which I call my Taco Slaw. It works really well here because it's floppy and juicy like traditional Coleslaw so it melds together nicely with the soft tortilla and the juicy plump prawns. Pink Taco Sauce – my favourite quick 'n easy spicy-yet-creamy sauce I call my Pink Taco Sauce. I use it for all tacos but it's especially good with fish tacos and prawns/shrimp.
But then again, the prawns themselves really are the hero here so you could go as simple as shredded iceberg lettuce and some tomato slices aka Old School Beef Tacos style, and it's still going to be a winner!
Ingredients:
PRAWN/SHRIMP TACO MARINADE
500g/1 lb medium prawns/shrimp , peeled (frozen thawed, or 1 kg / 2lb unpeeled whole)
Zest of 1 lime (or lemon)
1/4 cup lime juice (or lemon)
1 tbsp chipotle powder (MEDIUM spicy, can reduce to 2 tsp for MILD, Note 1)
2 tbsp coriander/cilantro , finely chopped (sub chives)
2 garlic cloves , minced
1/4 cup olive oil
1/2 tsp each salt and pepper
TACO SLAW
8 cups green cabbage , finely shredded (about 1/4 head)
1/2 onion , very finely chopped (brown, yellow, white)
3/4 cup plain yogurt (like Greek), unsweetened
1/4 coriander/cilantro , finely chopped (sub chives)
1/4 cup lime juice (or lemon)
1/4 cup extra virgin olive oil
1/2 tsp each salt and pepper
PINK TACO SAUCE
3/4 cup sour cream (or yogurt)
2 - 3 tbsp sriracha , adjust to taste
TO COOK & SERVE
1 tbsp olive oil
12 - 15 small tortillas (corn or flour), warmed or charred per packet
Lime wedges (highly recommended)
Coriander/cilantro , roughly chopped