Chicken Tamale Casserole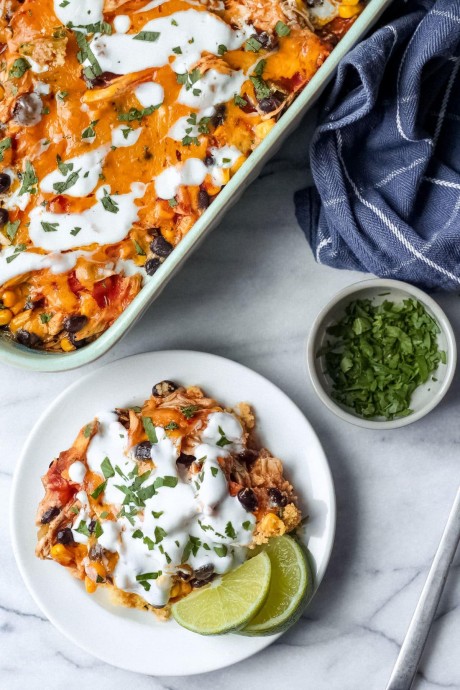 This Chicken Tamale Casserole is a simple, easy and delicious way to have the flavors of tamales on a weeknight! The crispy, crumbly cornbread is topped with shredded cheese, chicken and a host of Mexican flavors and baked to perfection in the oven – what's not to love!
Want Tamales but don't have the time? This Chicken Tamale Casserole is a quick and easy take on the traditional tamales. This is a filling, flavor packed meal that'll satisfy the hungriest of bellies during the week! It really is such a cinch to whip up, this could easily be a weeknight staple. Once baked, allow to cool, then cover the casserole tightly with aluminum foil, then wrap again in plastic wrap and place in the freezer. Keep it in the freezer for up to three months.
Quick, easy and delicious, just what you need for a busy weeknight. It feels like a treat but requires little effort. The cornbread mix is just three ingredients and the filling is six. One bowl to mix the batter and one for the filling, then into a baking dish. 30 mins in the oven and done!
Ingredients:
2 packages 6.5-8.5 ounces each cornbread mix
2 eggs
2/3 cup milk
Filling:
3 cups cooked shredded chicken
1 can black beans drained
1 1/2 cups corn
1 can 4 oz diced green chiles
2 cans 10 ounces each red enchilada sauce
1-2 cups shredded cheddar cheese