Apple Phyllo Pie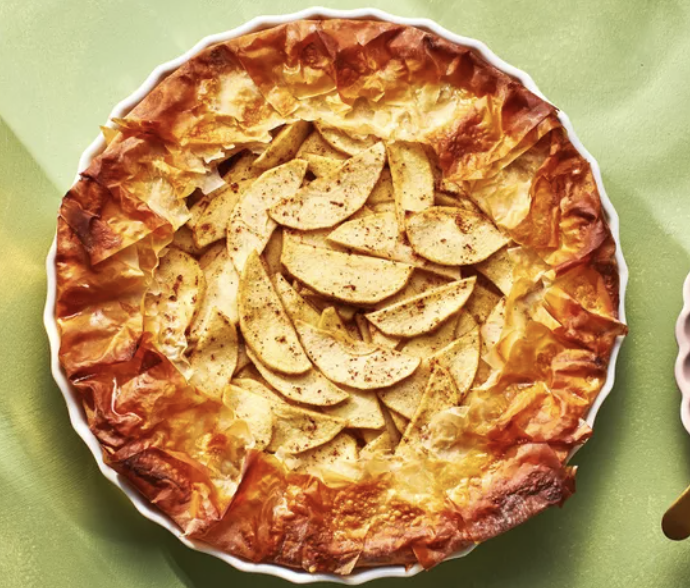 This twist on apple pie is easy enough for a weeknight dessert craving but pretty enough to serve at a dinner party or holiday gathering. And don't worry if there is also apple pie on the Thanksgiving dessert table, this galette is different enough that your diners can enjoy both.
Brushing the sheets of phyllo dough with a mix of honey and warm water rather than melted butter keeps the fat content in check. You could also use butter-flavored cooking spray instead. You'll want to slice the apples very thin and keep them a consistent shape. Another option is to add finely chopped walnuts to the apple mixture, which will add some protein and crunch to the mixture. For a fancier presentation, sprinkle some confectioners' sugar over the top of the galette right before serving. This makes for a party-worthy dessert.
Serve this pie on its own or with vanilla ice cream, frozen yogurt, or whipped cream. If you have any leftovers, it's probably easiest to keep the galette in the pie plate, cover it with plastic wrap, and store it in the fridge for a day or two. Leftovers might end up a bit soggy, but they will still taste good and can be enjoyed cold or warm.
Ingredients:
Cooking spray
5 Granny Smith apples
1/4 cup brown sugar
1 teaspoon ground cinnamon
1/4 teaspoon ground nutmeg
1 tablespoon freshly squeezed lemon juice
1 tablespoon all-purpose flour
1/4 cup honey
2 tablespoons warm water
6 (9 x 14-inch) sheets phyllo dough