Bacon Avocado Caesar Salad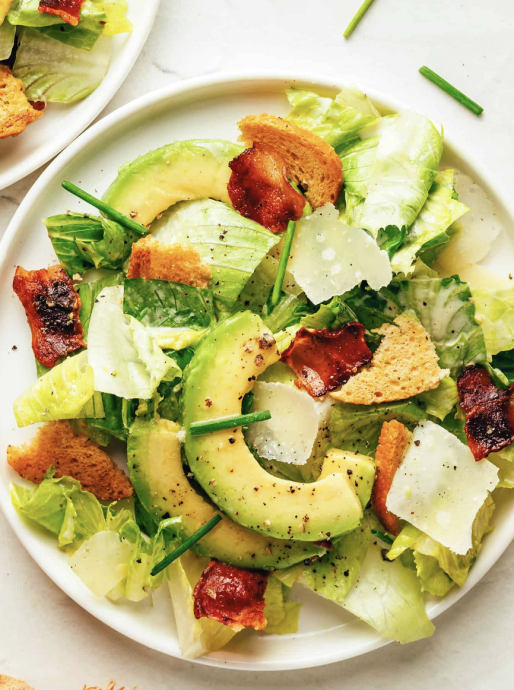 Classic Caesar salad is leveled up with crispy bacon, avocado, rosemary, chives, shaved Parmesan and garlicky croutons. So delicious!!
It featured all of the classics — crisp Romaine, crunchy croutons, and a boldly-flavored Caesar dressing. But to that, they also added in a generous sprinkling of crispy smoky bacon, a hint of rosemary, tons of shaved Parmesan, fresh chives (or paper-thin red onions), and these thin and garlicky baguette croutons that were downright irresistible (and easy to crunch!). I also got in the habit of adding in a few extra slices of avocado whenever we ordered this salad for delivery, and was convinced that extra layer of creaminess took this salad over the top. So if you also happen to love a good Caesar, I'm telling you — this ingredient combo is perfection!
Ingredients:
SALAD INGREDIENTS:
12 ounces Romaine lettuce, chopped
2/3 cup (6 ounces) Caesar dressing*
6 slices bacon, cooked and crumbled
1 large avocado, sliced
1/3 cup shaved Parmesan cheese
2 tablespoons chopped fresh chives
CROUTON INGREDIENTS:
12 very thin baguette slices (about 1 ounce)
olive oil
1/2 teaspoon garlic salt
freshly-ground black pepper