Roasted Sweet Potato Soup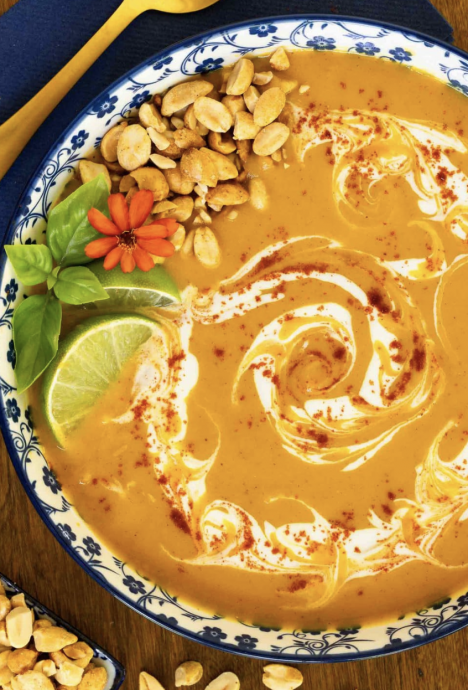 Vibrantly hued and loaded with amazing flavor, this healthy, veggie-laden Roasted Sweet Potato Soup is perfect for lunch or an easy casual dinner. Add a loaf of warm bread and a simple green salad for a delicious, satisfying meal!
I loaded up with sweet potatoes while grocery shopping a few weeks ago and I've been having fun with my stash ever since. We've enjoyed salads, sides, desserts and, the latest creation, this delicious Roasted Sweet Potato Soup. Although there's no meat, this soup is super satisfying and fills us up for hours.
Ingredients:
For the sweet potatoes:
3 large sweet potatoes or 4 medium (2-2 ½ pounds)
For the pepper/onion mixture:
1 large shallot peeled and halved
1 large sweet onion peeled, halved and cut into wedges
1 medium apple peeled, cored and cut into 4 quarters
1 large yellow bell pepper, core and seeds removed and cut into about 6 wedges
½ teaspoon kosher salt
¼ teaspoon ground pepper
1 tablespoons maple syrup
2 tablespoons extra virgin olive oil
For the soup::
1 tablespoon butter
1 tablespoon extra virgin olive oil
3 medium cloves garlic finely minced
1 tablespoon fresh ginger
1 teaspoon ground coriander
1 teaspoon smoked paprika
½ teaspoon cinnamon cinnamon
½ teaspoon mind curry powder
½ teaspoon ground cumin
5 cups low sodium chicken broth more as needed
14.5 ounces light coconut milk (1 can)
1 ½ teaspoons kosher salt more to taste
2 teaspoons fresh lime juice