Vegan Mediterranean Chickpea Spinach Burgers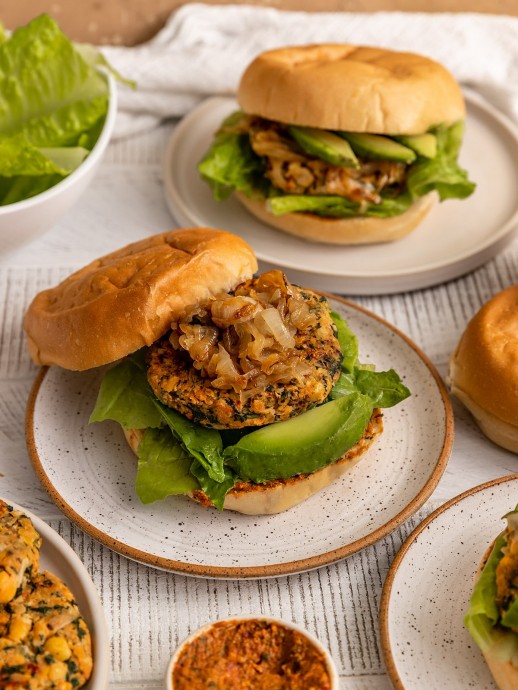 The best Vegan Chickpea Spinach Burgers filled with Mediterranean flavors are here! These vegetarian chickpea burgers are easy to pan-fry, bake, and are grillable too. With only 10 easy ingredients needed, top these burgers with lettuce, caramelized onions, avocado, and a vegan red pesto for the best weeknight dinner recipe!
These burgers are inspired by some of my favorite Mediterranean flavors and ingredients- most notably spinach, sun-dried tomatoes, lemon, and garlic. This makes them SO flavorful while still being made mostly with pantry/freezer ingredients.
For my burgers, I decided to add on a homemade sun-dried tomato pesto, lettuce, avocado, and caramelized onions. However, here are a few additional veggie burger toppings ideas: Vegan Sun-dried Tomato Pesto (I mixed sun-dried tomatoes with basil, pine nuts, olive oil, nutritional yeast, lemon juice, garlic, salt, & pepper!), Vegan Pesto, Avocado, Sautéed Mushrooms (I added these to my Black Bean Quinoa Burgers), and more. Another favorite way to eat this veggie burger is on a salad! While I don't have a picture, if you follow my on Instagram, you likely have seen my Veggie Burger Salad Creations! My favorite recipe to use is my Chickpea Quinoa Arugula Salad and add a crumbled chickpea spinach patty on top.
Ingredients:
2 cups frozen spinach (80 grams, starts as 2 cups and then gets rinsed and strained to be ½ cup)
¼ cup sundried tomatoes in oil (58 grams)
1 can cooked chickpeas (about 1 ½ cups chickpeas strained or 210 grams)
1 flax egg (1 Tbsp (10 grams) ground flax mixed with 3 Tbsp water)
2 Tbsp lemon juice (20 grams, juice of 1 lemon)
1-1.5 tsp salt (4-6 grams, add more or less depending on preference)
½ tsp garlic powder (2 grams, or 1 garlic clove)
¼ tsp black pepper (1 gram)
¾ cup oat flour (75 grams, oat flour is just finely ground rolled oats)