Chocolate Cashew Clusters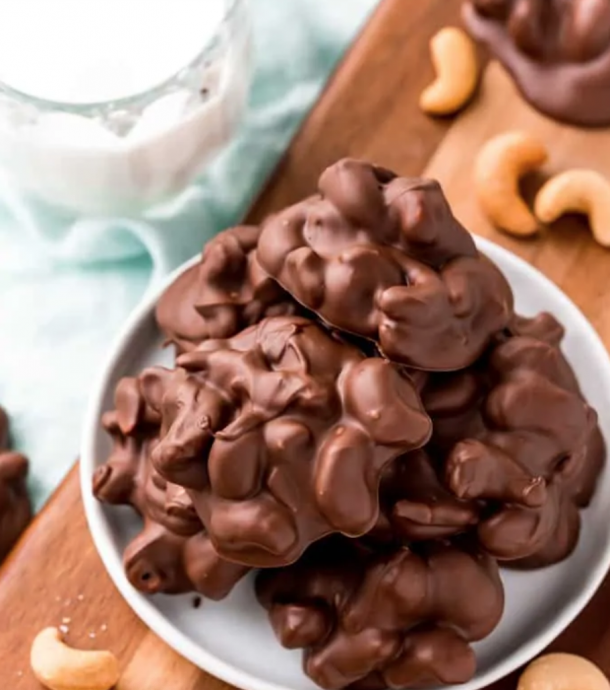 Chocolate covered cashew clusters are chocolatey crunchy and so easy to make! They're the perfect hostess gift or stocking stuffer! No stove, no oven, and no-bake, these are microwave-ready in minutes! This is the perfect homemade hack for Costco's Kirkland brand cashew clusters (and to be honest, they taste even better)! This tasty candy comes with a holiday twist if you add sprinkles but can be made year-round without!
All the crunch and texture of a Christmas chocolate cookie but zero baking! Did we also mention that cashews have a healthy dose of nutrition? Chocolate cashew clusters will be the star of any Christmas cookie exchange because they are so unique! Use easily meltable almond and chocolate bark, plus chocolate chips. Cashews are called for in this recipe, but any assortment of nuts like almonds, pecans, or walnuts will taste great! Toast nuts in a sauté pan for extra crunch and flavor! For a festive flair, add some chopped dried cranberry, and don't forget the red and green sprinkles or nonpareils! We also like to use melted caramels for an extra fun twist!
Ingredients:
8 ounces vanilla almond bark chopped
8 ounces chocolate almond bark chopped
1 cup semi-sweet chocolate chips
1 teaspoon salt
16 ounces unsalted dry roasted cashews
sprinkles optional