Lemon Poppy Seed Bread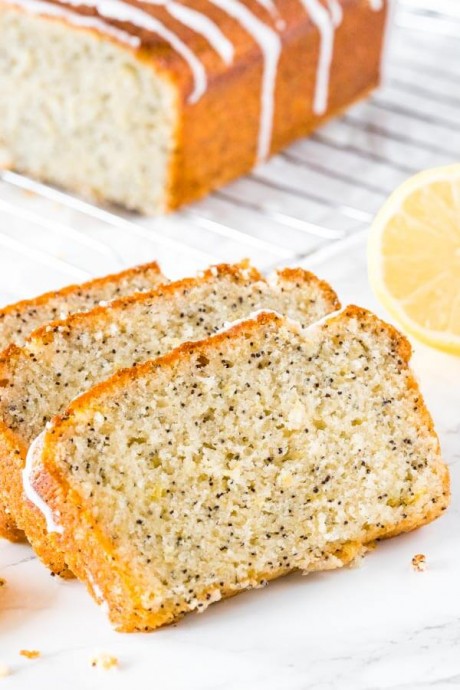 This lemon poppy seed bread is moist and tender with a fresh, sunshine-y lemon flavor. The poppy seeds add a delicious crunch, and the sweet, tangy lemon flavor makes it the perfect treat to remind you of springtime. Lemon bread and lemon loaf cakes are definitely one of the best things you can make in a loaf pan. Tender, dense, slightly springy, and perfectly lemon-y without being too tart. A good lemon loaf is hard to beat. And this lemon poppy seed bread meets all the requirements. For this lemon loaf recipe – we're using both lemon zest and fresh lemon juice for the lemon flavor. I like a strong lemon flavor, so I used a full 3 tablespoons of lemon zest and 1/4 cup fresh lemon juice.
Make sure to use freshly squeezed lemon juice. Lemon juice from the bottle is too tart and can make your loaf taste sour. Zest the lemons first, then squeeze the juice. This makes it way easier.
When making the loaf, you'll rub the lemon zest with the sugar. This helps to bring out the lemon flavor from the lemon zest. If you prefer a slightly less lemon-y flavor, I recommend using 2 tablespoons of lemon zest and 3 tablespoons of lemon juice instead of what's listed in the recipe. The glaze should be thin enough that you can drizzle it, but look white in color. If it's opaque – it will be too thin.
Ingredients:
Lemon Poppy Seed Bread
1 1/2 cups all-purpose flour
1/2 teaspoon baking soda
1/2 teaspoon baking powder
1/4 teaspoon salt
1 1/2 tablespoons poppy seeds
1 cup sugar
3 tablespoons lemon zest
2 large eggs
1 teaspoon vanilla extract
3/4 cup milk
1/4 cup lemon juice , freshly squeezed
2/3 cups canola oil , vegetable oil works too
Lemon Glaze
1 - 1 1/2 cups powdered sugar
1 tablespoon lemon juice freshly squeezed