Seasonal Spinach Salad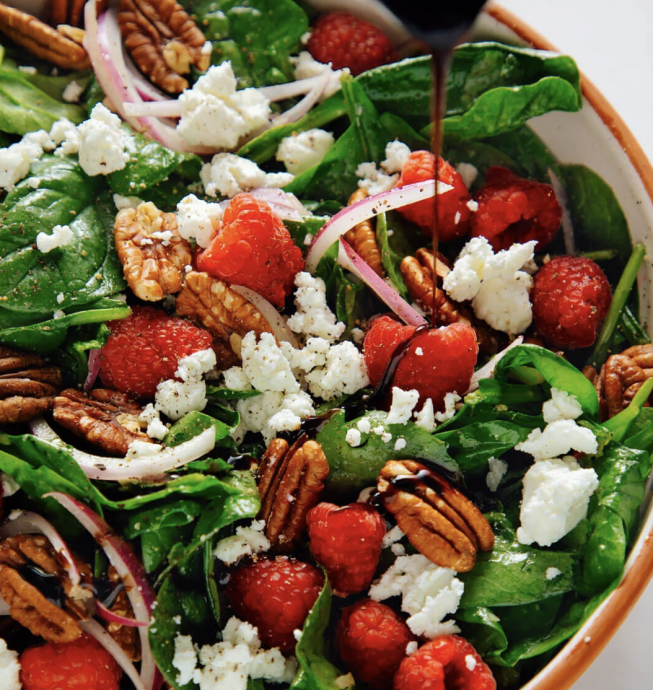 Discover the perfect side to accompany your favorite main dishes—this delightful Seasonal Spinach Salad. This green salad features fresh baby spinach, creamy goat cheese, and seasonal fruit, topped with toasted pecans and drizzled with a delectable vinaigrette. It's a versatile salad that can be easily adjusted to the changing seasons and makes for a lovely weeknight dinner addition or a holiday-worthy dish.
Spinach Salad Ingredients:
Let's gather the ingredients for this scrumptious salad:
5 ounces of baby spinach
¼ medium red onion, thinly sliced
4 to 5 ounces of crumbled goat cheese
½ cup of pecan halves
6 ounces of fresh raspberries (or see note for seasonal alternatives)
1 tablespoon of thick balsamic vinegar or balsamic glaze
Freshly ground black pepper
Seasonal Spinach Salad Toppings:
While raspberries are featured in this salad, you can choose from various seasonal options to keep your salad fresh year-round:
Spring: Strawberries (about two handfuls thinly sliced)
Summer: Raspberries, strawberries, peaches, or nectarines (one large, thinly sliced)
Fall: Apple or pear (one large, thinly sliced), or raspberries
Winter: Roasted root vegetables, like roasted beets, roasted carrots, or roasted sweet potatoes. You'll only need a couple of handfuls.