Easy Breakfast Burritos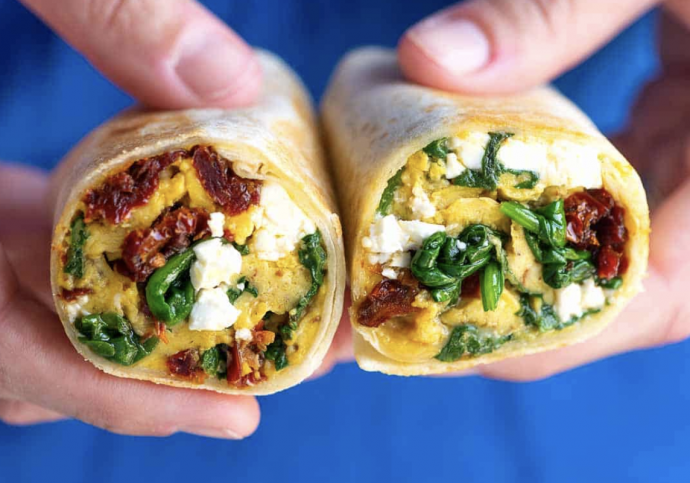 Breakfast burritos witheggs, sun-dried tomatoes, spinach, and feta cheese are the perfect hand-held breakfast. These freezer friendly breakfast wraps are perfect for making ahead of time for a quick breakfast another day.
These easy breakfast wraps are inspired by the spinach and feta wraps sold at Starbucks. They are loaded with protein and taste incredible thanks to flavorful sun-dried tomatoes, spinach, and feta.
In the Starbucks version, only egg whites are used, while in our recipe you'll see that we call for whole eggs. This is a personal choice and you can absolutely make an egg white only burrito if you'd prefer.
Until these burritos, sun-dried tomatoes were not really something we cooked with. I'm not sure why, but they just hadn't made it into our repitoire.
We experimented with fresh tomatoes and canned tomatoes, but found that they made the tortilla soggy, especially if we planned to make them ahead of time. After some more experimentation, we discovered that sun dried tomatoes are the perfect addition to these burritos. They are full of flavor and don't turn the tortilla into a soggy mess!
Ingredients
2 teaspoons olive oil or butter
1/4 cup (70 grams) sun-dried tomatoes, packed in oil, drained and chopped
1 cup packed fresh spinach leaves
4 large eggs, see notes for substituting egg white
1/4 cup (1 ounce) crumbled feta cheese
2 large flour tortillas (8-inches or larger in diameter)
Salt and fresh ground black pepper