Spicy Thai Peanut Chicken Wraps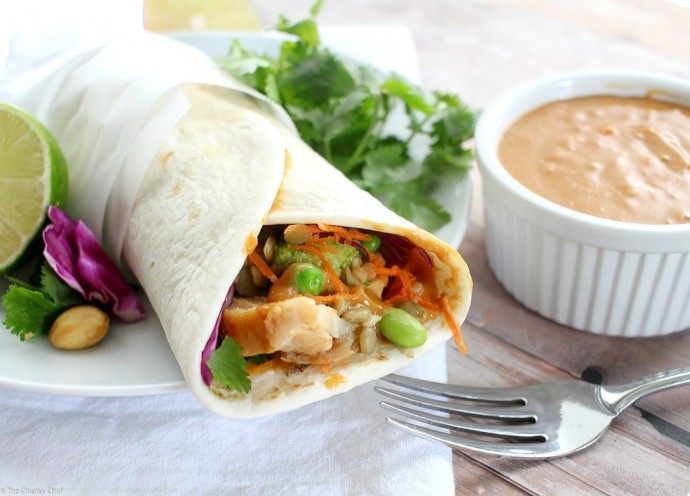 These quick and easy chicken wraps are loaded with great flavors! Just 6 easy ingredients plus a homemade Thai peanut sauce, and you're good to go! Great meals usually take a while to make, but not these amazing spicy Thai Peanut chicken wraps! They're ready before you know it, thanks to some help from the frozen foods department, but could easily be adapted and made 100% homemade.
I love the flavor of this sauce! Don't let the longer ingredient list scare you, you can whip this sauce together in about 5 minutes. Just add the ingredients to a mixing bowl and whisk until combined. If you want a super smooth sauce, you could process it in the blender or food processor. These wraps would also be great to take on the road, to a park, for a picnic, or just a quick bite to eat while you run some errands. Also, you can adjust the spiciness to your tastes, as it stands, it's not all that spicy. Try these spicy Thai peanut chicken wraps... light on time, but crazy good flavor!
Ingredients:
1/2 cup natural creamy peanut butter
1/4 cup coconut milk - canned
1 1/2 Tbsp soy sauce
1 1/2 Tbsp tamari
1 1/2 Tbsp brown sugar
1 1/2 Tbsp minced fresh ginger
2 Tbsp lime juice
1 tsp minced garlic
1/2 tsp red pepper flakes
1 tsp red curry paste
1 small shallot - peeled and finely minced
Flour tortillas
Fresh cilantro
Tyson Grilled & Ready Chicken Breast Fillets
Shredded purple cabbage
Shredded carrots
Birds Eye Protein Blend - California variety