Mini Eggnog Cheesecakes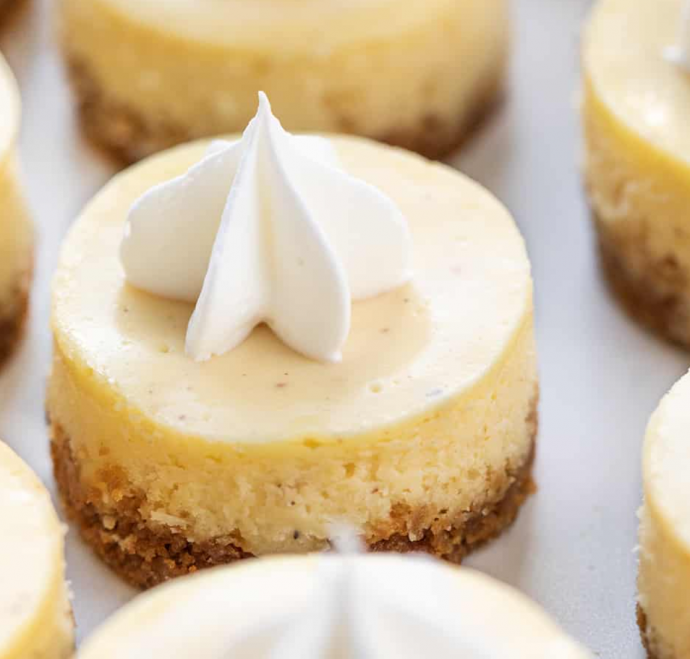 Mini Eggnog Cheesecakes are hand-held cheesecakes made with a gingersnap cookie crust and eggnog-flavored cheesecake.
Crust: I love the gingersnap crust that I used for these mini cheesecakes. The flavor of the cookies perfectly complements the eggnog flavor of the cheesecake. Of course, you could also use a graham cracker or vanilla wafer crust if preferred.
Room Temperature Ingredients: Make sure the ingredients used in the cheesecake (specifically cream cheese and egg) are at room temperature for the best results.
Eggnog: Yes, you could buy eggnog from the store, but I much prefer homemade eggnog. Besides my more traditional eggnog, I also have a blender eggnog you could whip up for this recipe.
Ingredients:
Crust
16-18 small gingersnap cookies, crushed (about 1 cup)
2 tablespoons unsalted butter, melted
½ tablespoon granulated sugar
¼ teaspoon ground nutmeg
Cheesecake
1 ½ blocks (12 ounces) cream cheese, room temperature
½ cup (100 g) granulated sugar
½ cup (127 g) eggnog
1 tablespoon all-purpose flour
½ teaspoon vanilla extract
¼ teaspoon ground nutmeg
¼ teaspoon kosher salt
1 large egg, room temperature
whipped topping, optional, for garnish