Pecan Pie Cheesecake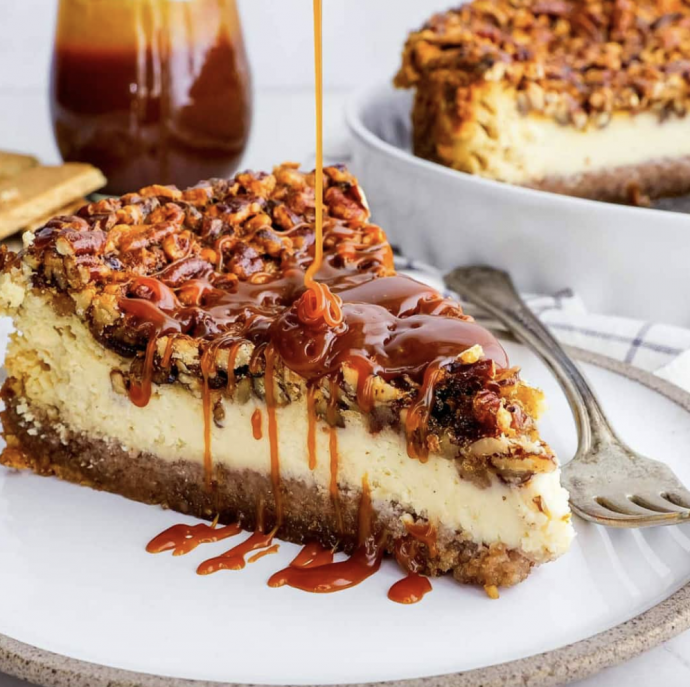 This Pecan Pie Cheesecake is where Southern charm meets creamy delight, melding two classic desserts into an irresistible masterpiece. With its buttery pecan-studded crust and lusciously smooth cheesecake, it's a dessert that promises to steal the show at any gathering.
Ingredients:
Ingredients You'll Need
For the Crust:
Graham crackers form the crust's base. You can substitute with digestive biscuits or vanilla wafers for a similar texture.
Pecans bring a nutty crunch to the crust and the topping. Walnuts can step in if you're out of pecans.
Granulated sugar sweetens both the crust and cheesecake. Substitute with coconut sugar or raw cane sugar can do the trick.
Salt enhances the dessert's flavors. No real substitution here, but it's optional based on preference.
Unsalted butter binds the crust together. Melted coconut oil is a great dairy-free alternative.
For the Cheesecake:
Cream cheese is the heart of the cheesecake layer, offering that rich and creamy texture we all love. I love using Philadelphia cream cheese, which I think is best for cheesecake.
Brown sugar adds depth and a molasses note to the cheesecake and topping. You can replace with muscovado sugar or granulated sugar with a touch of molasses.
Vanilla extract introduces a fragrant aroma and classic flavor. You can substitute with vanilla bean paste.
Eggs bind and set the cheesecake and pecan pie topping.
For the Pecan Pie Topping:
Light corn syrup gives the pecan pie topping its signature gloss and sweetness. You can use golden syrup or maple syrup instead.
Heavy cream enriches the pecan pie topping. Feel free to substitute full-fat coconut milk for a dairy-free option.