Oven-Roasted Rosemary Thyme Potatoes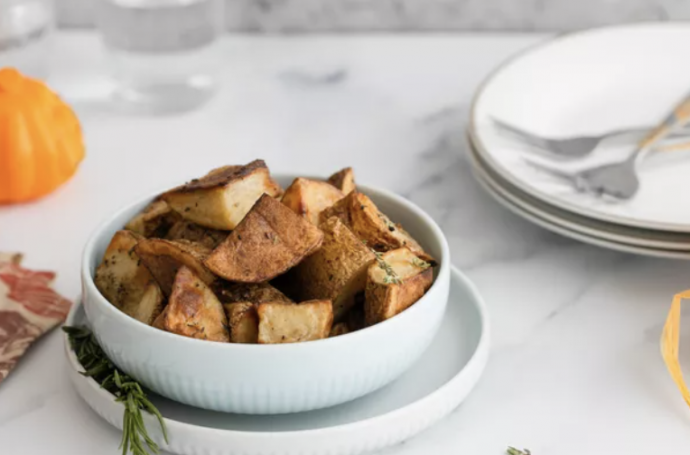 Chopped potatoes drizzled with olive oil and tossed in plenty of fresh herbs is a very simple and easy vegetarian, vegan, and gluten-free side dish. Try it if you need something quick when company's coming or for a worry-free vegan holiday side dish.
Need more reasons to try these simple oven-roasted rosemary and thyme potatoes? Besides the fact that potatoes are fairly inexpensive and quite filling, you can get them in the oven just as quickly as you can chop them up and drizzle olive oil on them—there is very little preparation needed.
All of the flavor in these roasted potatoes comes from the fresh ingredients themselves—the potatoes, olive oil, fresh thyme, and rosemary—so be sure to use quality ingredients as much as possible. Regular russet potatoes are just fine in this recipe, but something nicer such as royal blues, fingerlings, or red gold potatoes would be even better, and of course, use the best quality olive oil you have on hand. By all means, please use fresh ground black pepper and sea salt or kosher salt instead of regular table salt.
Ingredients:
5 to 6 potatoes
2 tablespoons olive oil
Kosher salt, to taste
Freshly ground black pepper, to taste
3 cloves garlic, minced
1 tablespoon chopped fresh thyme
1 tablespoon chopped fresh rosemary
1 teaspoon chopped fresh fresh sage, optional