White Bean Soup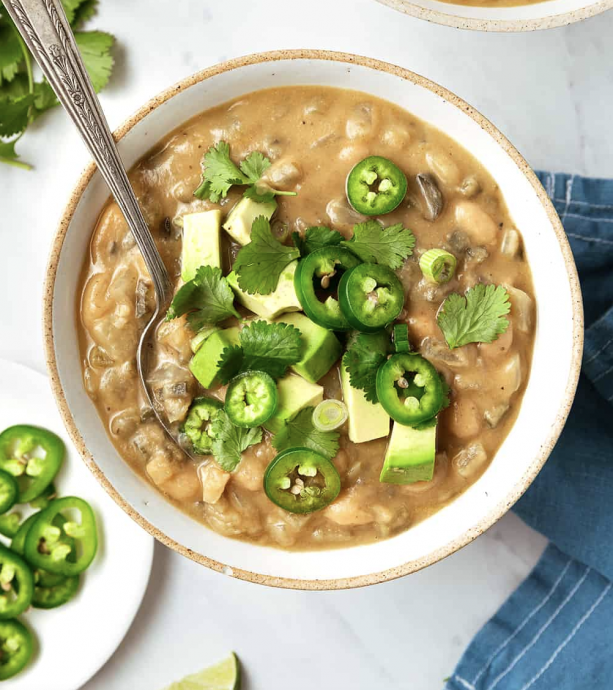 Indulge in the creamy, comforting, and zesty flavors of our White Bean Soup, a delightful vegan spin on white chili. This vibrant dish is a perfect blend of blended white beans, tangy lime juice, diced green chiles, and aromatic spices like cumin and coriander. A rich texture without dairy and minimal hands-on cooking make this soup a satisfying and easy-to-make addition to your weeknight meals. Plus, it gets better as the flavors mingle in the fridge, making it a perfect option for leftovers.
Ingredients
Prepare your palate for a symphony of flavors with the carefully selected ingredients for our White Bean Soup:
White Beans: Cannellini beans, Great Northern beans, or navy beans work beautifully.
Extra-virgin Olive Oil: For richness and depth.
Onion and Garlic: For savory depth of flavor.
Poblano Pepper: Adds a touch of heat to the soup.
Vegetable Broth: Use store-bought or make your own for a personalized touch.
Diced Green Chiles: Infuse the soup with zesty, tangy flavor.
Ground Cumin, Coriander, and Dried Oregano: For an earthy and aromatic flavor profile.
Fresh Lime Juice: Provides a bright and refreshing finish.
Salt and Pepper: To make all the flavors pop!
For Toppings: Customize your soup with colorful and crunchy toppings:
Fresh Cilantro
Sliced Jalapeño or Serrano Peppers
Diced Avocado
Sliced Scallions