Roasted Chicken And Vegetables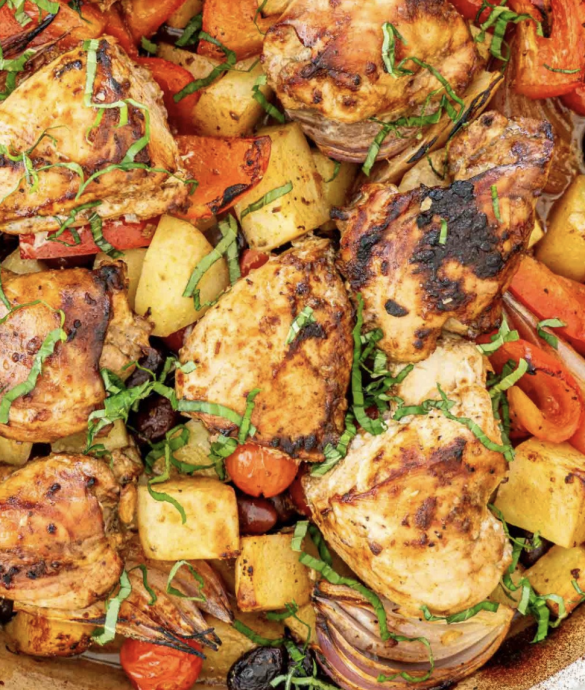 This Roasted Chicken and Vegetables is a family favorite that we make often. Quick and easy prep, a whole meal all in one dish, resulting in a deliciously seasoned chicken over a bed of vegetables.
One-Pan Wonder: This roasted chicken and vegetables recipe is the epitome of simplicity. With everything cooked together in one baking dish, it's perfect for those who love flavorful meals but want minimal cleanup.
Mediterranean Magic: The inclusion of kalamata olives, balsamic vinegar, and smoked paprika infuses the dish with the rich flavors of the Mediterranean.
Versatility at its Best: Whether you prefer chicken breasts, thighs, or drumsticks, this recipe has you covered. The combination of hearty potatoes, vibrant bell peppers, and juicy tomatoes ensures that each bite is a perfect balance of protein and veggies.
Ingredients:
2 pounds chicken (breasts, thighs or drumsticks)
4 medium potatoes (peeled and cut in cubes)
1 large onion (cut in wedges)
2 cups cherry tomatoes (or regular tomatoes cut into quarters)
6 cloves garlic (minced)
1 red bell pepper (roughly chopped)
1 cup kalamata olives
4 tablespoon olive oil
1 tablespoon balsamic vinegar
1 teaspoon smoked paprika
salt and pepper to taste
3 basil leaves (chopped)