Golden Skillet Potatoes With Pepper & Onions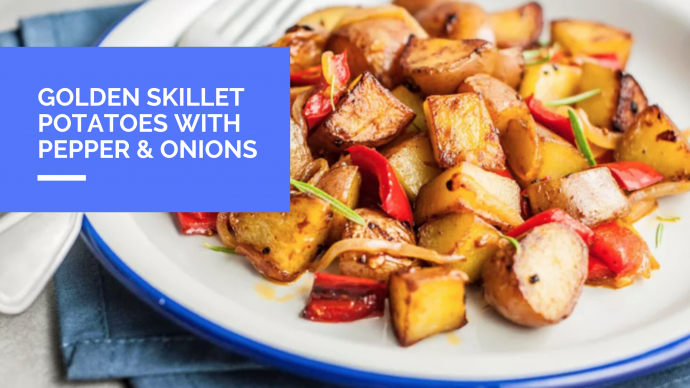 This classic method for making restaurant-style "home fries" involves several steps. First, you boil the potatoes. Then you drain them and brown them in a skillet. Then you sauté onions, and finally you bring it all together in the skillet. All this takes some time, but not a whole lot of work. And it's worth it. If you follow this process, potatoes will be truly, divinely crisp—which, after all, is the whole point of fried potatoes.
The best potatoes to use for home fries are waxy or medium starch, like red bliss or round white. New potatoes have fabulous flavor when fried, and are a good choice if the season is right. You can also make this dish with leftover potatoes if you have them on hand.
Ingredients
1 kg potatoes
1 red bell peppers
3 tablespoons olive oil
¾ teaspoon salt
1 large red or yellow onion, sliced
Freshly ground black pepper
Optional: 1 medium clove garlic (finely minced)
Directions
Step 1
Scrub the potatoes (peeling is optional), and cut them into small cubes. You should have 5 to 6 cups of cubes. Place them in a large saucepan, add water to cover by about an inch, and bring to a boil. Lower the heat to a simmer, and cook, uncovered, for about 15 minutes, or until tender.
Step 2
Put a colander in the sink, and drain the potatoes thoroughly.
Step 3
Place a large heavy skillet over medium heat. After about a minute, add 1 tablespoon of the olive oil and swirl to coat the pan. Add the sliced onion and sauté until the onion is tender and translucent. Add the red bell pepper and garlic and cook for 1 minute longer.
Step 4
Turn up the heat to medium-high, and add half the cooked potatoes in a single layer. Sprinkle with ¼ teaspoon salt, and let them sit, undisturbed, for 5 minutes.
Step 5
Loosen the potatoes with a thin-bladed metal spatula, and turn them over in a single layer on the second side. Let them sit over the heat for another 5 minutes.
Step 6
Scrape from the bottom to loosen the potatoes, and toss them to redistribute in the pan. Cook for another minute, then transfer the potatoes to a plate, scraping out and saving all the tasty browned bits from the bottom of the pan.
Step 7
Wipe out the pan with a paper towel, and repeat the procedure with the remaining potatoes, using another tablespoon of the oil and another ¼ teaspoon salt. Add this second batch to the first one on the plate.
Step 8
Wipe out the pan with a damp paper towel. Return the pan to the stove over medium heat, and wait about a minute. Then add the remaining 1 tablespoon oil, and swirl to coat the pan. Add the onion and the remaining ¼ teaspoon salt, and cook over medium heat, stirring often, for 8 to 10 minutes, or until the onion turns deeply golden.
Step 9
Stir the potatoes into the onions, adding some black pepper. Cook over medium heat, stirring occasionally, for 10 minutes, or until everything is golden. Serve hot or warm.
Tips
For richer flavor, stir in 1 to 2 teaspoons butter when browning the onions.
Add ½ teaspoon dried thyme when browning the onions.
Add one of the following, or a combination, to the onions after they have cooked for 1 minute:
-Up to 4 cups (packed) chopped fresh spinach
-1 cup diced bell pepper (any color)
-1 small zucchini or summer squash, diced or sliced
-1 cup corn (fresh or defrosted frozen)
Add 1 small minced jalapeño when browning the onions. Or top with hot sauce.
Add 1 tablespoon minced garlic (about 3 good-sized cloves) to the onions midway through their cooking.
Garnish with sour cream or yogurt.
Sprinkle with minced scallions or parsley.
Garnish with cherry tomatoes or salsa.
Bon Appetit!