French Silk Pie Fudge (Chocolate Fudge Recipe)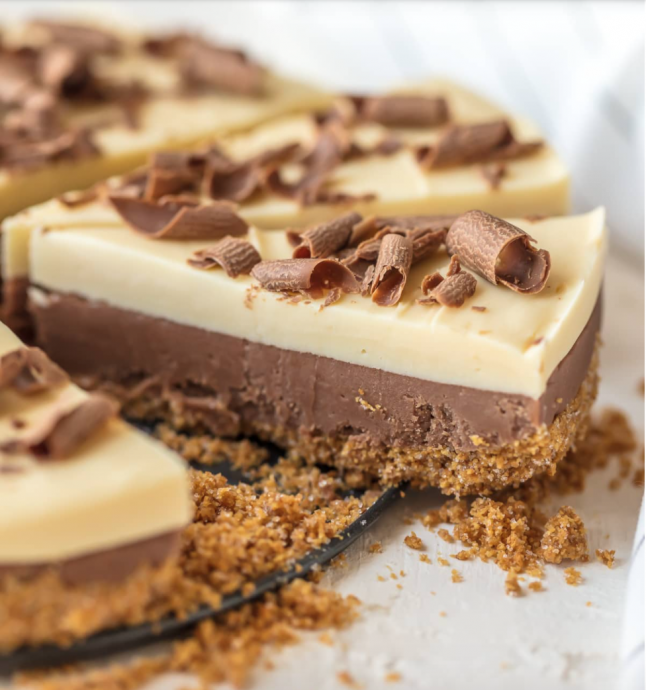 French silk pie fudge is an absolute must make for Christmas! This cute and creative chocolate fudge recipe is delicious, easy, and fun. Wow your guests with this adorable twist on a holiday classic. French Silk Pie has always been my very favorite pie. Something about that creamy chocolate, whipped cream topping, and cute chocolate curls on top. I just can't get enough of it! This French Silk Pie Fudge emulates everything I love about the pie itself. I love a good chocolate fudge recipe, and this one is perfect. So much flavor, and so much fun!
This dessert doubles as an amazing holiday gift. I always have a hard time coming up with the right kind of gift to give people this season. This recipe solves that problem. Fudge is a lot easier to make than it looks. It's made in layers, and then cooled to set it all into place. In the end, you have one seriously delicious chocolate fudge recipe! I love making this French Silk Pie Fudge during the holidays to share with guests.
Ingredients:
7 full graham crackers
4 tablespoons salted butter softened to room temperature
3 tablespoons granulated sugar
2/3 cup evaporated milk
3 cups granulated sugar
¾ cup 1½ sticks unsalted butter
1 jar 7 oz Marshmallow Crème
½ pkg 6 oz Milk Chocolate Chips (I use Ghirardelli)
½ pkg 6 oz Semi-Sweet Chocolate Chips (Ghirardelli)
1 teaspoon vanilla extract
12 oz. White Chocolate wafers or chopped bars
7 oz. Sweetened Condensed Milk