Banana Bread Waffles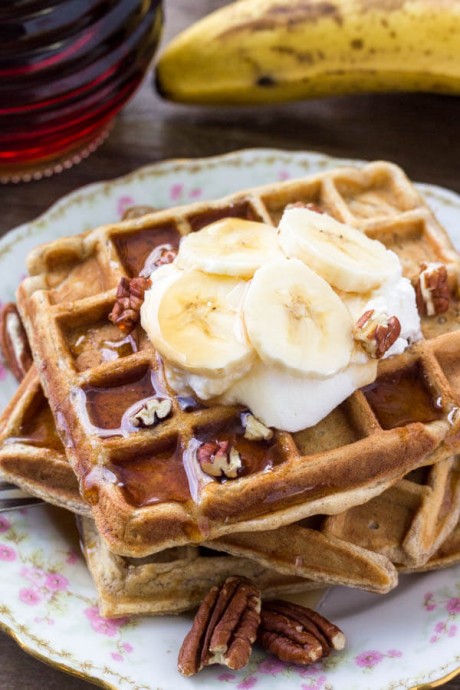 Banana bread waffles are fluffy and soft with big banana bread flavor. They have a hint of cinnamon and brown sugar, and taste delicious drenched in maple syrup. If you love banana bread – then making banana waffles should definitely be on your to-do list. They have all the flavor of your favorite banana bread recipe in fluffy, soft waffle form. You can add a few walnuts or chocolate chips too if that's your style. But I love them plain & simple with a good drizzle of maple syrup. The recipe is super easy and simple to make. First whisk together your dry ingredients. In a separate bowl stir together a little melted butter, sugar, eggs, vanilla extract and milk. Then mix in the mashed bananas. Finally, fold the dry ingredients into the banana mixture – and we're ready to go.
What I also love about these banana waffles is that they take way less time from start to finish than making banana bread. The batter comes together in about 10 minutes, but instead of taking almost an hour to bake like banana bread – you can cook the entire batch in under 15 minutes.
You're going to seriously love these banana bread waffles because they're fluffy, moist, have a hint of cinnamon & brown sugar, and delicious banana bread flavor. They're perfect for breakfast with maple syrup and whipped cream – or make them for dessert with chocolate chips, caramel sauce & ice cream.
Ingredients:
1 1/2 cups flour
2 tsp baking powder
1/2 tsp baking soda
1/2 tsp cinnamon
1/4 tsp salt
3/4 cup milk , buttermilk, 1% or 2%
2 tablespoons brown sugar
1 tsp vanilla extract
2 large eggs
3 tablespoons melted butter , cooled
3/4 cup mashed bananas , about 2 medium bananas