Skillet Lasagna Roll-Ups with Kale Pesto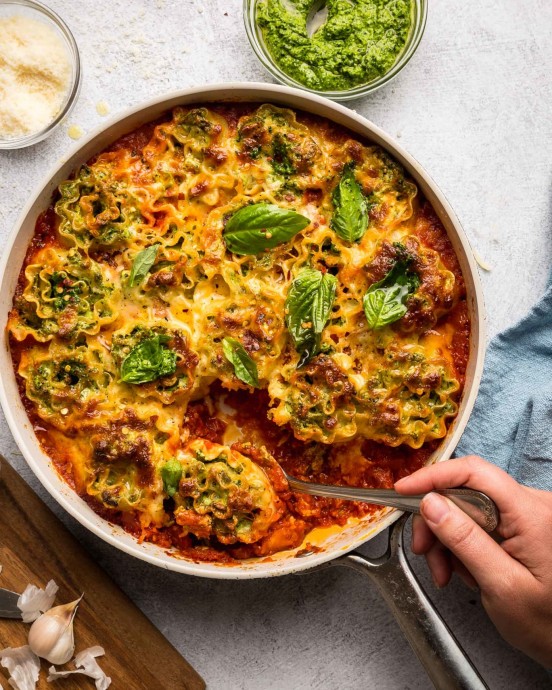 Throughout the pandemic, the type of food that's satisfied me the most has been classic comfort dishes with a healthy-ish spin. In the spring, that meant spinach and herb-packed stuffed shells, and in the summer a phyllo pie bursting with as much zucchini as it could hold. That brings us to fall and winter and this cozy lasagna skillet, which I've given my green treatment to in the form of a nutty kale pesto.
These cheesy, crispy roll-ups are just what you need to bring new life to pasta night. A store-bought sauce lets you focus your efforts on the pesto, and a smaller yield than classic lasagna means you won't be swimming in leftovers. If you're burnt out on cooking, this dish will revive you — I can't express enough how fun it is to make.
Arrange in a skillet full of sauce with the ruffled edges facing upwards, cover with cheese, and bake until the sauce is bubbling and the cheese is browned. Serve with spoonfuls of leftover pesto and the marinara from the skillet.
Ingredients:
1/4 cup plus 3 tablespoons olive oil, divided, plus more as needed
2 large cloves garlic
1/2 cup walnuts
3/4 teaspoon kosher salt, divided, plus more for cooking the pasta
1 large bunch flat-leaf kale (about 8 ounces)
2 ounces Pecorino Romano or Parmesan cheese, finely grated (about 1 firmly packed cup finely grated, or 2/3 cup store-bought), divided
6 ounces low-moisture mozzarella cheese, divided
1 bunch fresh basil leaves
9 dried lasagna noodles
Cooking spray
1/4 teaspoon red pepper flakes
1 (15 to 16-ounce) tub high-quality whole-milk ricotta cheese
1 large egg
1/4 teaspoon freshly ground black pepper
1 (about 24-ounce) jar marinara sauce (about 3 cups), such as Rao's