The Best Baked Beans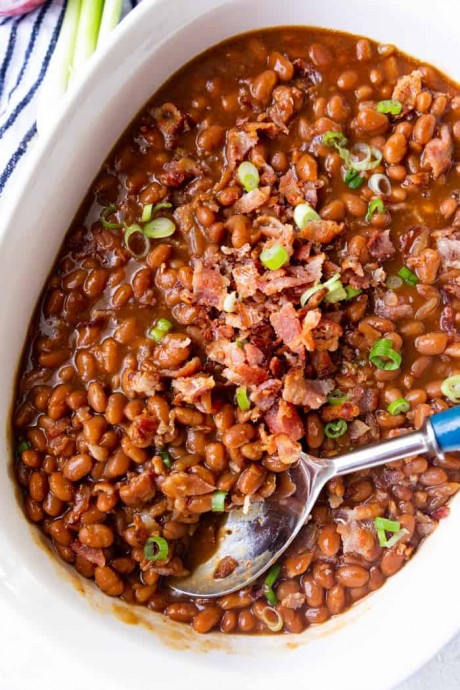 This is the best baked beans recipe the perfect pot luck side dish, with so much flavor. These baked beans are studded with bacon, onions, and peppers, and offer a sweet and delicious sauce with the perfect depth of flavor. Baked beans is a classic side dish for something like fried chicken, that is easy to make, requires only a few simple ingredients, and turns out perfect every single time.
They don't get easier than this side dish! These baked beans are not 100% from scratch, because you start with canned beans that are already in a sauce. I guess you could say that they're baked beans from scratch using canned beans! To make homemade baked beans from scratch, use navy beans that aren't in a sauce, and add 6 Tablespoons of tomato sauce to the recipe. What are baked beans made of? Here is how you make these semi homemade baked beans: Bacon. The first step to making the ideal baked beans is bacon for a salty smoky flavor. Reserve some of the bacon to top the beans later. Beans: Use the entire cans of pork and beans or Bush's baked beans. Don't drain them. Adding the brown sugar, molasses, and other ingredients to the existing sauce will enhance it. Onions and Peppers: Reserve a little bacon grease, and cook the onions and peppers in it to add more flavor to your dish.
Ingredients:
1 red onion finely diced
½ cup green bell pepper finely diced
1 pound bacon cook crispy and diced
½ cup ketchup
¼ cup molasses
⅔ cup brown sugar
2 tablespoons cider vinegar
1 tablespoon Worcestershire Sauce
2 teaspoon dry mustard
60 ounces baked beans or pork and beans
Garnish
2 tablespoons green onion
2 tablespoons chopped bacon (reserved from cooked bacon)