One-Skillet Paleo Dijon Salmon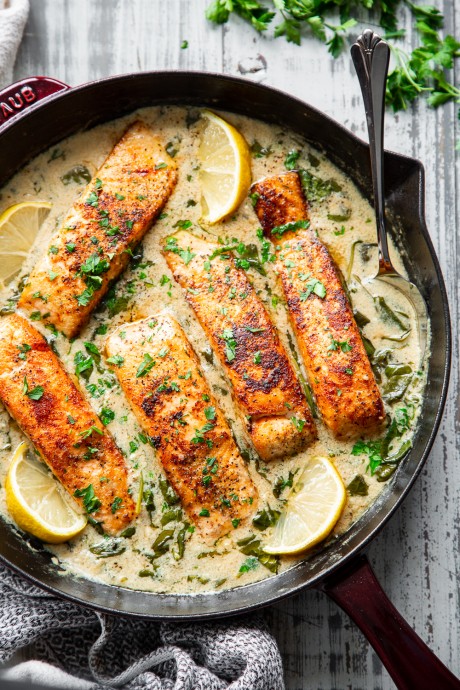 This creamy dijon salmon is made all in one skillet in just 20 minutes! It's packed with flavor, perfect for weeknights and even kid approved. This easy paleo dinner is also Whole30 compliant and low in carbs, for a healthy meal you'll want on repeat!
I have another one-skillet meal for you that has it all – tons of flavor, protein, veggies, and a delicious easy and creamy sauce! This meal became a quick favorite for me because it's super fast (there isn't much prep to do at all) and the creamy, lemony dijon sauce is absolutely addicting.
The salmon itself is perfectly seasoned and pan fried to get the skin nice and crispy and keeping the inside perfectly moist and flaky. If you're not a fan of salmon skin, you can use skinless of course. As for me, it's my favorite part of the salmon so I'll never skip it! I love this salmon served over sautéed cauliflower rice – which is super quick too. I buy cauliflower rice already "riced" and frozen. You don't even have to sauté it this way – just heat in the microwave and you're good to go! If you want a little extra buttery flavor, you can sautéed it in a separate skillet with a little ghee or coconut oil plus some salt and pepper. If cauliflower rice isn't your thing, simply serve over your favorite roasted veggies, or even potatoes if you don't need the meal to be low in carbs. You can also serve this alone, adding in a bit more spinach for extra veggies.
Ingredients:
1-2 tablespoons avocado oil or ghee
5-6 salmon fillets skin on (or off if you prefer)
Sea salt and freshly ground black pepper to taste
1 tsp garlic powder
1/2 tsp onion powder
1/2 tsp smoked paprika
1 Tbsp ghee or avocado oil
3 cloves garlic minced
1/3 cup chicken bone broth or dry white wine, if not Whole30
1 14 oz can full fat coconut milk
1 Tbsp tapioca flour
3 tablespoons Dijon mustard
1 Tbsp fresh lemon juice
1 Tbsp nutritional yeast optional 
Sea salt and black pepper to taste
2 tsp dried Chives
2 cups fresh chopped spinach or other greens
Chopped parsley and sliced lemon for garnish
Sautéed cauliflower rice to serve