Creamy Chicken Potato Casserole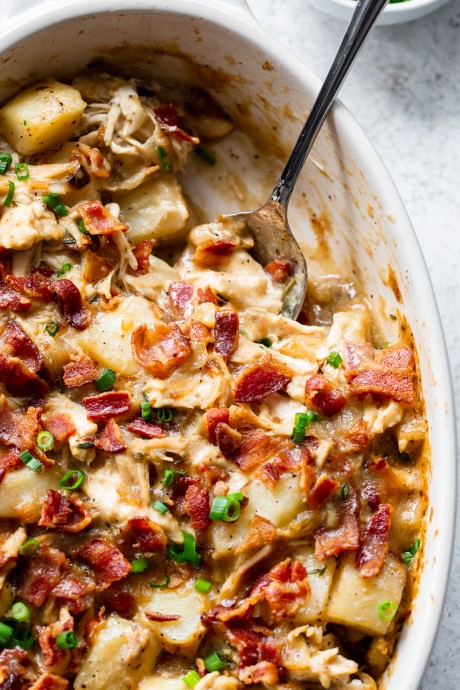 This savory creamy chicken potato casserole is the perfect healthy comfort food for cold winter nights! Hearty roasted potatoes are baked with chicken, bacon, and a creamy sauce that you won't believe is dairy free. It's kid approved, easy to make and the leftovers are perfect for a filling lunch the next day. It's Whole30 compliant and paleo friendly. You'll see that many of the ingredients are my staples that show up again and again, nothing fancy and no surprises.
Winter is all about soups and casseroles for me. I made the sauce a little creamier, kept the bacon and chicken and swapped out the veggies for roasted potatoes. Needless to say I was totally thrilled with the result!
It definitely satisfies your craving for cozy, filling comfort food while still leaving out all the dairy that's usually a staple in casseroles. Plus, it's Whole30 compliant in case you're planning a January Whole30! This casserole is filled with clean ingredients, good fats, carbs and protein. I hope you're ready for a hearty, creamy, flavor-packed casserole that's bound to become a staple in your house!
Ingredients:
1.5 lbs russet potatoes peeled and chopped into 1" cubes
1 Tbsp avocado oil or olive oil
Sea salt and black pepper
1/2 tsp garlic powder
1/2 tsp onion powder
8 slices nitrate free bacon
3 Tbsp ghee or rendered bacon fat
1 medium onion chopped
4 cloves garlic minced
2 tsp fresh thyme leaves
3 Tbsp arrowroot flour
1 1/2 cups chicken bone broth
1 cup coconut milk full fat
1 Tbsp mustard any kind
2 Tbsp nutritional yeast optional
Sea salt and black pepper to taste
3 cups cooked shredded chicken rotisserie chicken is fine (just check ingredients for Whole30, if needed)
Sliced chives or green onions for garnish