Double Chocolate Hazelnut Muffins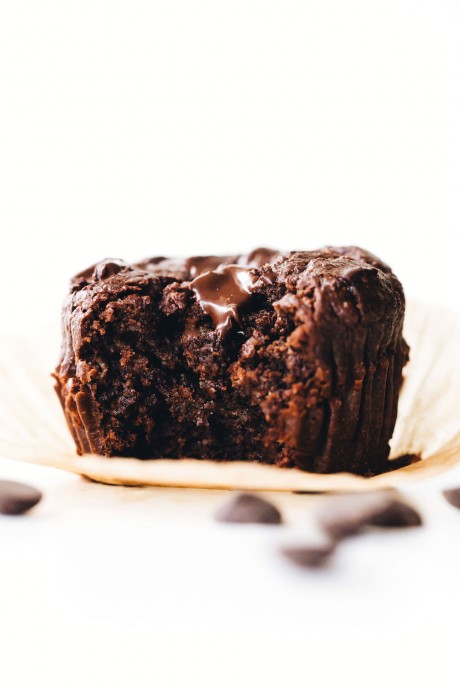 Easy, ultra rich Double Chocolate Hazelnut Muffins with oats, hazelnuts, cacao, coffee, and dark chocolate chips – a decadent snack or healthy dessert! Sometimes you need a mid afternoon snack that feels decadent like pre-dinner dessert, and answers your please send brownies! call, and fills that place in your heart that loves nothing more than biting into a soft chocolatey cupcake at the same time. These Double Chocolate Hazelnut Muffins were crafted just for that purpose. Decadent like dessert but made with good stuff like oats and yogurt so they're healthier too. Rich like a brownie but not too fudgy and fluffier inside. And perfectly single-serving sized like a cupcake but without being as extra as 3 inches of piped frosting on top.
I truly think we've struck a perfect balance here. In my (unbiased of course) opinion these muffins are better than other chocolate muffins for a few reasons: Flourless. Or more specifically we are making our own "flour" by grinding a combination of oats and hazelnuts in the Vitamix.
Oil-free. The hazelnut flour combined with nondairy yogurt gives these muffins all the moisture they need. Coffee. Yes there's some of that in here too…hello extra richness. Double chocolate. A.k.a. chocolate with chocolate chips. And I may have added more chocolate chips on top pre-baking…triple chocolate? I take the job of chocolate chip allocation very seriously.
Ingredients:

2 cups (200g) rolled oats
2 cups (250g) roasted hazelnuts*
1/2 cup (50g) cacao powder
1 tbsp baking powder
1/2 tsp salt
1 cup (240g) nondairy yogurt
3/4 cup (180g) brewed coffee**
1/2 cup (160g) maple syrup
2 flax eggs (2 tbsp ground flax + 4 tbsp water)
1 tsp vanilla extract
1/2 cup (80g) dark chocolate chips