Baked Mozzarella Sticks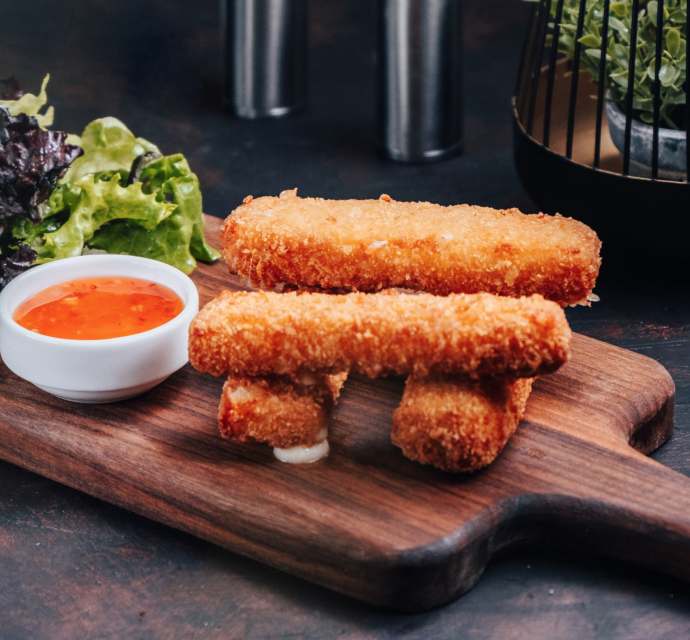 Homemade mozzarella sticks are easy to make in less than 30 minutes! The first bite begins with a deliciously crispy outer coating followed closely with a surprisingly soft cheesy middle.
It actually took me several attempts to get these perfect. I played around with different types of cheese and here's my suggestion: you will need to buy mozzarella cheese from the grocery store, but don't use the buffalo style, because it will be too soft. Buy the cheese in the brick and it will work just fine. Another tip: these sticks must be frozen before you bake them to prevent a big cheesy mess in your oven, just believe me.
Ingredients
12 mozzarella string cheese sticks
1/3 cup all-purpose flour
1/8 teaspoon salt
1/8 teaspoon ground black pepper
1 large egg
2 Tablespoons milk
3/4 cup panko breadcrumbs
1 Tablespoon grated Parmesan
Herbs to taste (I use my homemade combination of dried basil, oregano, parsley, thyme, garlic powder)
Pinch of crushed red pepper (optional)
Vegetable oil, for frying
Directions
Step 1
Prepare a baking sheet with parchment paper and set aside. In three separate dishes, prepare the following:
Dish 1: Combine flour, salt and pepper and whisk to combine.
Dish 2: Combine eggs and milk and whisk to beat and combine.
Dish 3: Combine breadcrumbs, Parmesan, garlic powder, and herbs.
Step 2
Working with one piece of cheese at a time, dredge each piece of string cheese in flour mixture, shake off excess. Dip in egg mixture, then coat in breadcrumb mixture and press to ensure it sticks. Repeat this process, then transfer to prepared baking sheet.
Step 3
Transfer baking sheet to freezer and let freeze for at least 1 hour.
Step 4
When ready to bake preheat oven to 400° F.
Step 5
Line a baking sheet with aluminum foil and lightly spray with oil. Place frozen cheese sticks on baking sheet. Spray the tops of the mozzarella sticks with a little more oil and bake in the bottom third of your oven until crisp, about 4 to 5 minutes.
Step 6
Turn and bake an additional 4 - 5 minutes watching them closely, so they don't melt.
Step 7
I serve them with my marinara sauce (check the recipe below), enjoy!
Homemade Marinara Sauce
1 tablespoon olive oil
1–2 cloves garlic, peeled and minced
300 g crushed tomatoes or tomato sauce
Dried herbs (basil & oregano)
Pinch of salt
Pinch of crushed red pepper
Directions
Heat oil in a small saucepan over medium-high heat, then add garlic and saute until fragrant, 1-2 minutes. Add tomatoes, herbs and salt. Reduce heat to medium-low and simmer, stirring occasionally for 10 minutes. Add red pepper (if using), stir and let simmer another 1 minutes. Transfer to serving dish and serve immediately. Enjoy!
Tips
Work with one cheese stick at a time. Speaking from experience, if you try to work on multiple sticks at once, it can be easy to lose track of which step you've done, and if you've done the second coating or not.