Coconut Macaroons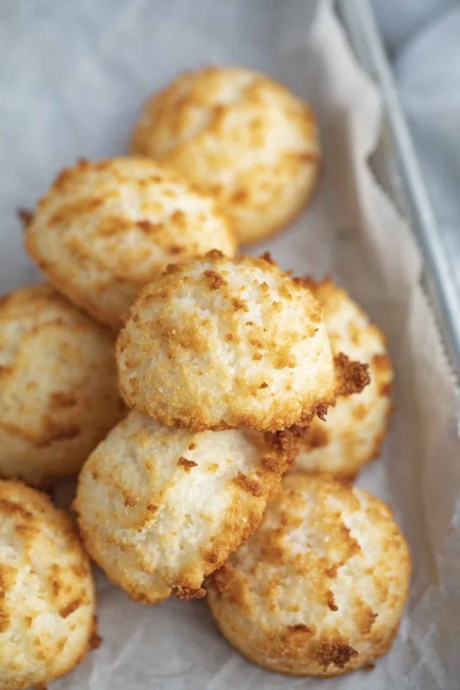 Coconut Macaroons are sweet and chewy, made from coconut flakes, sweetened condensed milk, almond and vanilla flavor, and incredibly EASY to make! Coconut Macaroons are among our favorite dessert classics including Vanilla Pound Cake, and Easy Chocolate Cake!
Coconut Macaroons are one of my all-time favorite cookies, made from sweetened shredded coconut, condensed milk, flour, and both almond and vanilla extract. They're soft and moist, with chewy coconut pieces in the texture. This is a great recipe to make any time of the year, during the spring or to give out as gifts around the holidays.
You can eat these macaroons as-is, or dip them in chocolate. This coconut macaroon recipe is only three easy steps, and made without egg whites. You can use plain coconut to bring the sweetness down in these cookies, or use unsweetened condensed milk. Macarons are typically made out of ingredients like almond paste and egg whites, with a light airy texture and chewy crispy outer shell sandwiched around a creamy center made of ganache or frosting. You can find macarons in many different flavors and colors, and they're tricky desserts to make. Macaroons are primarily based on coconut, and much easier to bake. They're dense and chewy, and often dipped in chocolate. It has some similar ingredients, but these are very different cookies in the end. You can find macaroon recipes that call for ingredients like a meringue made of egg whites, or no flour in the recipe. The ingredients can vary depending on where you are.
Ingredients:
14 ounces sweetened condensed milk
1 teaspoon vanilla extract
1 teaspoon almond extract
2/3 cup flour
5 1/2 cups sweetened coconut flakes 14 ounce bag
1/4 teaspoon kosher salt