Chocolate Chai Cream Pie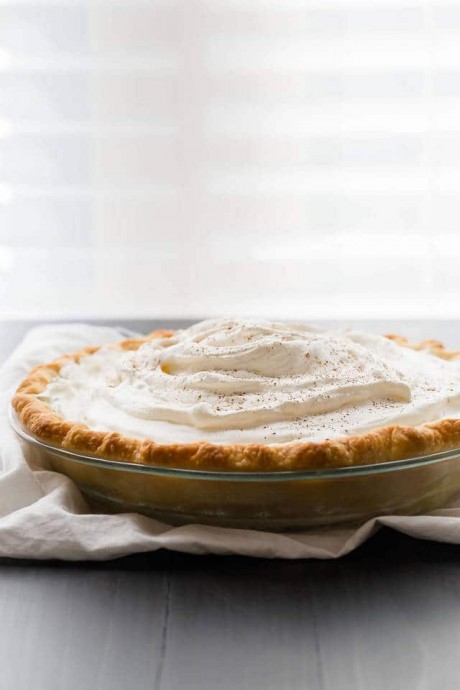 Chocolate Chai Cream Pie is made for chocolate and chai lovers. A thick layer of chocolate pudding laced with chai rests on a buttery, flaky crust and is topped with homemade whipped cream. Each bite is positively delicious. I'm sure you will agree that this is one of the tastiest chocolate cream pie recipes. My younger self loved and craved chocolate. I would have something chocolate at least once every day. Whether it be a cup of chocolate pudding, a double chocolate brownie, or several thin mints. I was loyal and true to the chocolate. Today, not so much. I am more partial to fruity sweets. Anything with chunks of fruity goodness. I am not at all picky with fruit either. I love all of it!
But this pie you guys! I was so surprised at how much I enjoyed it. It is nothing more than chocolate pudding infused with chai. One amazing flavor combination!The pie is very simple. The only baking required is the baking of the pie crust. I don't use fancy weights when I blind bake. I simply prick the bottom of the crust before it goes into the oven, line it parchment paper, and fill it with dried beans. It works perfectly. Make the filling then pour it into the cooked and cooled pie crust.
Ingredients:
For The Crust
½ recipe homemade pie crust
For The Filling
3 cups milk
3 black chai tea bags
4 ounces semisweet chocolate, coarsely chopped
1 cup granulated sugar
¼ teaspoon salt
3 egg yolks, lightly beaten
⅓ cup cornstarch
1 ½ tablespoons unsalted butter, cut into pieces
1 ½ cups homemade whipped cream, or you can use store-bought
ground cinnamon, for garnish