Creamy Poblano Chicken Enchiladas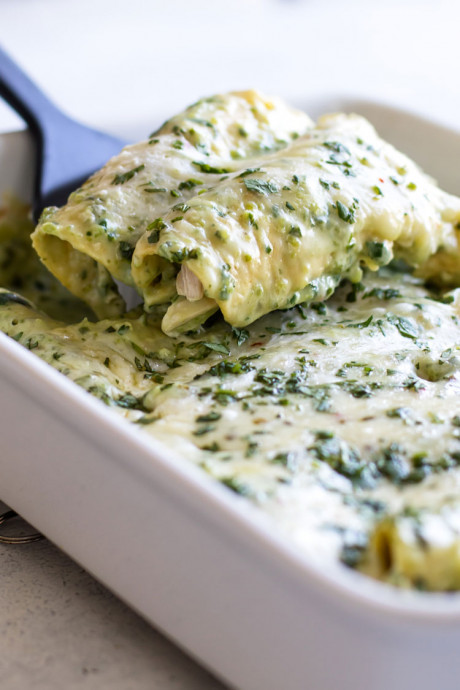 These poblano chicken enchiladas are all about the creamy poblano sauce. The combination of the rich white sauce flavored with warm poblano peppers and fresh cilantro is so delicious. A store-bought rotisserie chicken makes these enchiladas so easy to make. This recipe is really all about the sauce. It's basically a white sauce, or bechamel, that's flavored with poblano peppers and fresh cilantro. The original recipe recommends roasting the peppers, but I find it's easier and just as delicious to saute them. Folks who have tried this recipe have commented here and on Pinterest that doubling the sauce is not a bad thing! So, if you like extra-saucy enchiladas you might want to make extra.
If you've never cooked with poblano peppers, they are a mild chile pepper that is available at most grocery stores. If you've ever had chile rellenos, a stuffed pepper dish, you've had a poblano pepper. If you can't find poblano peppers the best substitute is anaheim peppers, which are a little spicier. Bake the chicken enchiladas, uncovered, for 15 to 20 minutes at 375°F. The enchiladas are ready when the cheese is melted and the sauce is bubbling hot. The last step is to squeeze fresh lime juice over the top of the hot enchilaladas followed by a sprinkling of chop cilantro. It adds a bright and acidic pop of flavor that contrasts nicely with the rich sauce.
Ingredients:
3 tablespoons unsalted butter, divided
3 cloves of garlic, peeled and smashed
2 poblano peppers, seeds and stems removed and chopped
1/4 cup all-purpose flour
1 1/4 cup chicken broth
1 1/4 cup whole milk
1/2 cup chopped cilantro
1 teaspoon kosher salt
4 cups shredded rotisserie chicken
12 corn tortillas, warmed (see note)
8 ounces shredded pepper jack cheese
Juice of 1/2 lime
1 tablespoon chopped cilantro, for garnish