Pecan Praline Cheesecake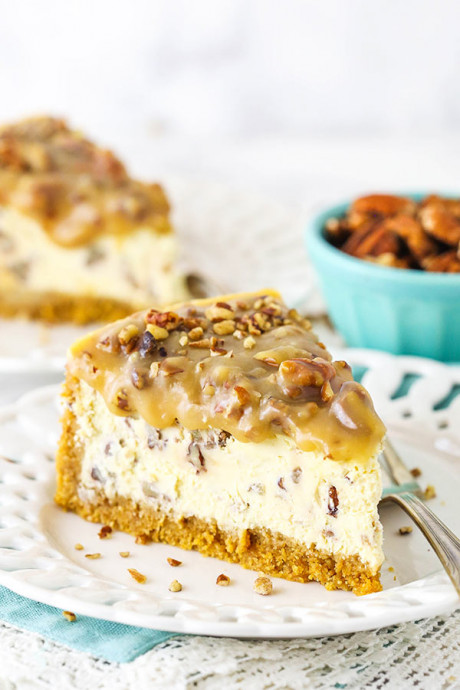 This Pecan Praline Cheesecake is a pecan lover's dream! The rich, creamy filling is full of brown sugar and toasted pecans and topped with a delicious, caramel-y pecan praline sauce! Every bite is pure heaven!
When I set out to make this cheesecake, I knew it was going to be all about the topping. I wanted it to be just like a praline, but softer. I have to say that I nailed it and am in love with it. The topping stays sliceable when cold, but is nice and gooey when it's closer to room temperature. The flavor is wonderful and it's hard to stop eating it. When you combine it with the thick, creamy cheesecake, it's truly a special treat.
This Pecan Praline Cheesecake is seriously so good! It's kind of addicting. And with all that caramel-y flavor and those pecans, it's just right for Fall and Thanksgiving. And since this time of year is so busy, it's also ideal because it's perfect for making ahead. You really can't go wrong. If you're a lover of pecans, this cheesecake definitely needs to be something you try.
Ingredients:
2 1/4 cups (302g) graham cracker crumbs (about 17 full sheet graham crackers)
5 tbsp (70g) packed brown sugar
1/8 tsp salt
10 tbsp (140g) unsalted butter, melted
CHEESECAKE FILLING
24 ounces (678g) cream cheese, room temperature
1 1/4 cups (180g) light brown sugar, loosely packed
3 tbsp (24g) all purpose flour
1 cup (230g) sour cream, room temperature
1 tbsp vanilla extract
4 large eggs, room temperature
1 cup (107g) chopped pecans, toasted
TOPPING
1/2 cup (104g) sugar
1/2 cup (113g) packed light brown sugar
3/4 cup (ml) heavy whipping cream
4 tbsp (56g) unsalted butter, cut into cubes
3/4 cup (80g) chopped pecans, toasted
1/2 tsp salt
1 tsp vanilla extract