Vegetarian Stuffed Peppers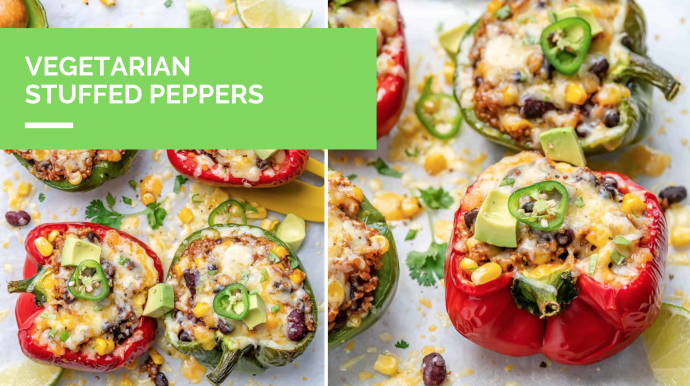 A sunny meat-free meal that is impressive but easy. To break up the prep into stages, you could always make the lentils ahead of time – even the day before.
These easy baked stuffed bell peppers are full of protein-packed beans and quinoa that will leave you full and satisfied. Made with a delicious and flavorful bean and quinoa filling, topped with cheese and baked until perfectly tender. For a vegan-friendly version of these healthy stuffed peppers, skip on the cheese and sour cream or use vegan cheese. A nice twist to the classic stuffed bell peppers that are usually made with meat and rice but instead we used quinoa and beans. We vouch that these are the best vegetarian stuffed peppers you will ever have!
I think you guys are going to love these peppers, as they are they're so easy to make, super flavorful, healthy, filling, vegan and versatile!
Ingredients
3-4 large bell peppers sliced in half with seeds removed
4 tbsp extra virgin olive oil
1 medium onion, diced
2 cloves garlic, minced
¼ tsp red pepper flakes (optional)
1 tsp ground cumin
1 Tsp Smoked Paprika
½ Tsp Cayenne Pepper (optional)
1 cup diced tomatoes
1 cup black beans drained and rinsed
1 cup red beans drained and rinsed
3 Cups Vegetable Broth
1 Cup Fresh/Frozen or Canned Corn
1 Cup Quinoa
50g mature hard goats' cheese or cheddar, grated or crumbled
Optional toppings: Avocado, cilantro/parsley, sour cream, and lime wedges
Directions
Step 1
Preheat oven to 400°F. Line a baking tray with parchment paper. Thoroughly wash the bell peppers, and pat the excess moisture with a paper towel. Carefully slice each bell pepper halfway, through the stems. Discard the ribs and seeds, and place on the prepared baking tray.
Step 2
Spray with a bit of cooking oil spray and sprinkle with salt and pepper. Bake for 8-10 minutes.
Step 3
Meanwhile, heat oil in a heavy skillet, over medium-high heat. Add onion and garlic, sauté until onion is translucent.
Step 4
Stir in tomatoes, beans, and corn. Add red pepper flakes, ground cumin, smoked paprika, salt and pepper, cook stirring constantly for 2-3 minutes. Stir in the quinoa and broth, and reduce the heat to low.
Step 5
Cover and let it simmer until quinoa is cooked through about 12-15 minutes. Once done, remove from the heat and carefully spoon the mixture into the roasted peppers.
Step 6
Generously sprinkle shredded cheese on top, then place back into the oven and cook for 6-8 minutes until cheese is melted and peppers are tender. Remove from the oven, garnish with chopped cilantro or parsley. Serve with your favorite toppings (I use avocado) and enjoy.