Chocolate Chip Scones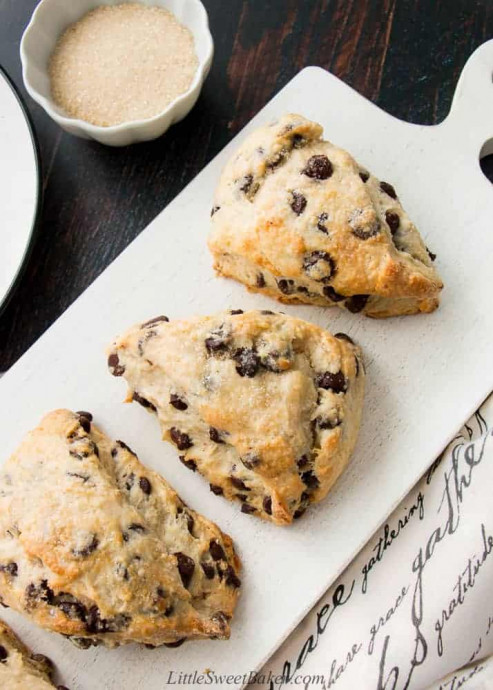 These chocolate chip scones are crispy and golden on the outside, soft and flaky on the inside, and loaded with chocolate chips in every bite. See how easy it is to make these moist and tender scones that will keep you coming back for more! Why this recipe is so great: Super easy to make – All you have to do is work the butter into the dry ingredients, then add in the wet ingredients, stir the dough together, knead it into a ball, and let it rest for 20 minutes while your oven preheats. Moist and tender, not dry at all – Using a combination and the right amount of buttermilk and butter make these scones incredibly moist and tender on the inside. Bakes to a golden perfection – Chilling the scones and brushing them with buttermilk before baking creates a crunchy exterior and gorgeous golden color.
You can prepare the dough the night before, cover and store in the fridge overnight, and bake fresh in the morning. Baked scones will last in the fridge for up to 5 days, so you can also bake them in advance, and just reheat when ready to serve. To reheat, place them on a baking sheet lightly tented with foil, and warm in a 350F oven for about 10 minutes.
Ingredients:
2 1/2 cups (315g) all-purpose flour, plus more for work surface and kneading
4 tbsp granulated sugar
1 tbsp baking powder
1/2 tsp salt
1 1/2 cups chocolate chips
½ cup (114g) cold unsalted butter, cubed
⅔ cup (167ml) cold buttermilk, plus more for brushing top of scones
1 large egg
1 tsp vanilla
2–3 tbsp coarse sugar for sprinking (optional)